27.11.20200



Google Banner Ad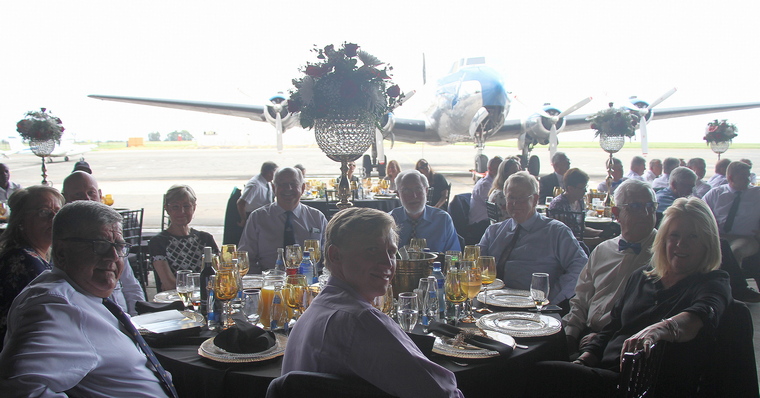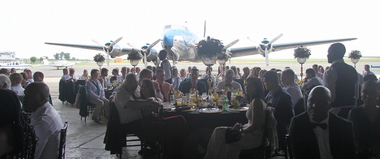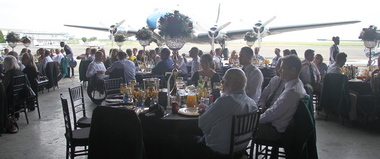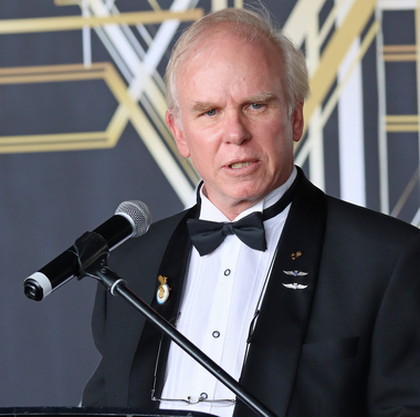 Good afternoon, Ladies & Gentleman, honoured guests, Ms Poppy Khoza the Director of the CAA, Mankopane Manamela from the Department of Sports and Recreation South Africa, welcome to our Aero Club 2022 Awards Ceremony.
It is somewhat a bumper year for us after having had a drought in most of our sporting activities since 2020, and this is our first Awards ceremony since 2019, having had to unfortunately shelve the ceremonies that were to take place in 2020 and 2021.
I am glad to see that our sporting activities has at least rebounded somewhat since the pandemic given the resurgence in FAI competitions that took place this year, and more notably the third time postponed World Rally Flying Championships that eventually took place in Brits just over a week ago.
When we concluded our 2019 awards the Aero Club was gearing up for a big year, that being the Centenary year with many activities planned which included a Centenary branded Air Week, the launch of the Centenary balloon, a 100 aircraft flypast, the Silver Queen Air Rally, 2 World Championship events, Centenary banquet and a yearbook. Sadly as it came to pass most of these had to be shelved, although the launch of the 100 year balloon took place although later in the year, and we were able to produce the Centenary yearbook in a much expanded form given the more time we had on our hands….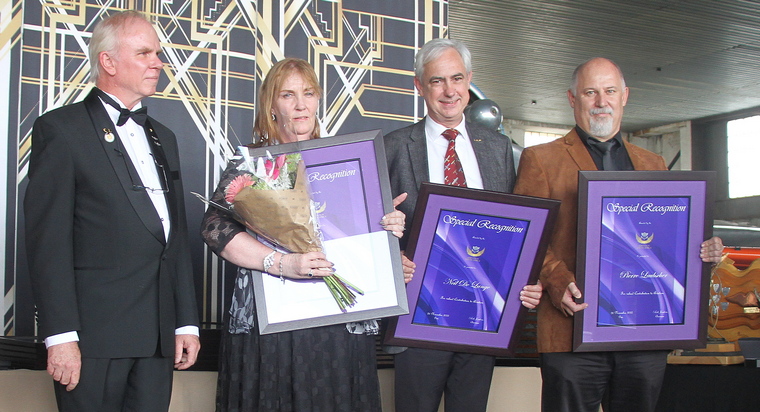 After announcement of the Covid lockdown and State of Disaster being invoked, the CAA recognised the need to keep the GA system and crew health in terms of maintenance of proficiency within the rules of the State of Disaster and negotiated with DOT to find a mechanism to allow flights, and thereafter to partner with the industry for practical solutions to bring this into effect. We thank Mary Stephens, Neil de Lange and Pierre Laubscher for their work in opening up the skies for General Aviation.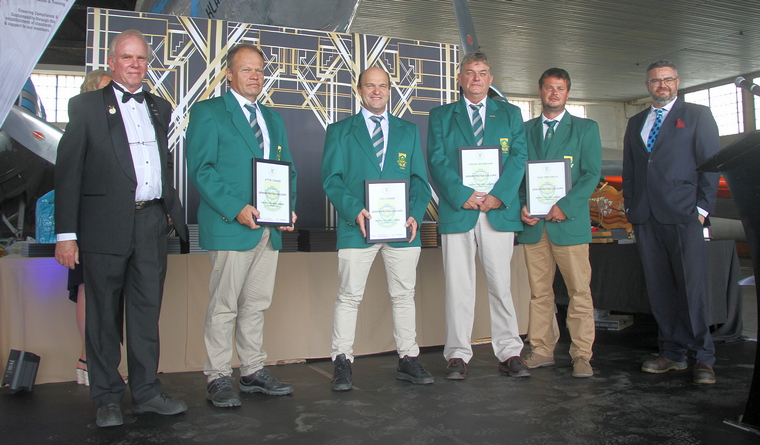 Senior Protea Colours awarded to Uys Jonker, Jason Adriaan, Oscar Goudriaan, Dolf Pretorius, Nico Le Roux, Attie Jonker and Riaan Denner for participating in the 37th FAI World Gliding Championships from 23 July to 6th of August 2022 in Szeged, Hungary.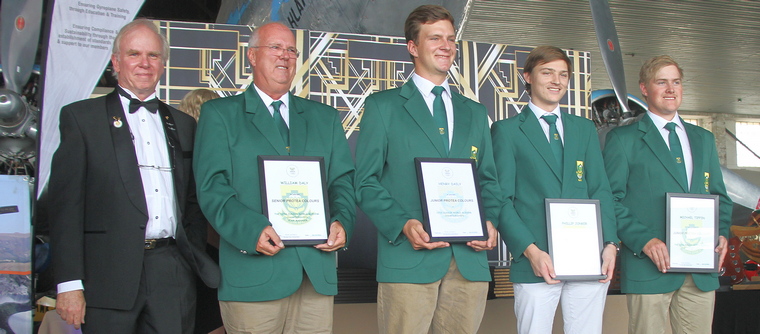 Junior Protea Colours is awarded to Michael Tiffen, Phillip Jonker, Henry Richard Daly and William Richard Daly for participating in the 12th Junior World Gliding Championships, held from 30 July to 13th of August 2022 in Tabor, Czech Republic.


During 2020 with everybody grounded after the initial level 5 lockdown restrictions, between the CAA and the industry we established an excellent partnership in developing the means to get us a return to flight, recognising that the forced stoppage would have negative consequences to aircraft maintenance and flight crew proficiency - and from which we were able to develop processes to support the volume of such requests within the restrictions imposed at the time, this showing how quickly solutions and partnerships could be achieved to secure a good outcome and goal.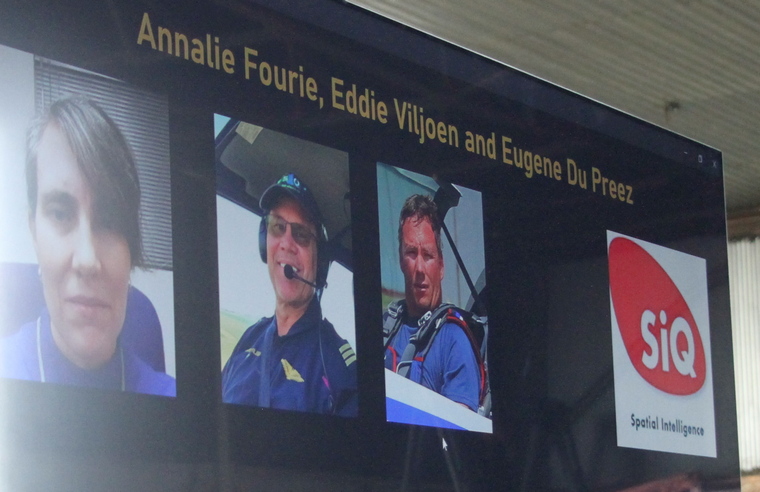 In the period where the Aero Club started developing a process to allow maintenance flights, Eugene du Preez, Eddie Viljoen and Annelie Fourie through their experience with on -line Aviation IT systems offered to develop system in which maintenance flight applications and approvals could be facilitated, which within a week of creation with CAA endorsements, could be used as the platform for GA to enable it to carry out maintenance flights. This system allowed an application through the approval process to be granted within hours of submission. As part of the team who developed the processes, we thank Eugene, Eddie and Annelie for their support in getting us flying again under maintenance protocol by developing this system.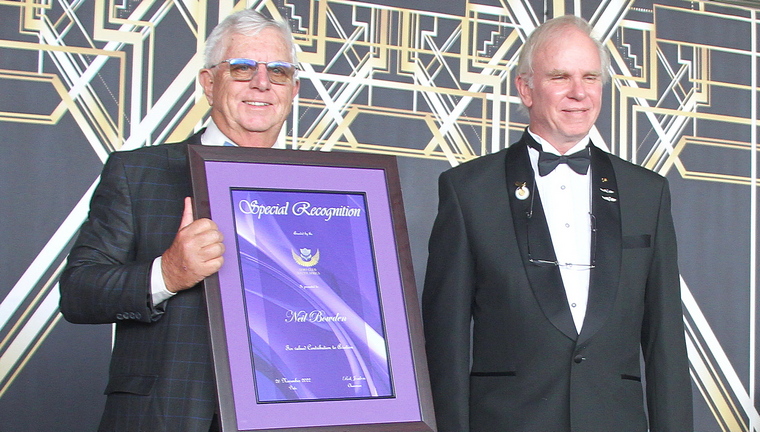 Neil Bowden is well known for his annual tours to Airventure Oshkosh that has been responsible for many hundreds, if not thousands of South African enthusiasts and individuals from neighbouring countries being able to enjoy Airventure Oshkosh as full members. Neil arrives well ahead of Airventure and acts as a volunteer in the setting up of this wonderful event. We thank him for being a great ambassador for South Africa. Neil has for 24 years with few exceptions conducted expeditions / tours to the EAA Annual Oshkosh mega aviation event, thereby encouraging involvement in Recreational Aviation and general involvement in aviation in South Africa. Many thousands of South Africans have experienced the Oshkosh phenomenon because of Neil's leadership and involved themselves more intensely in recreational aviation on return to South Africa. His leadership and organisational skills are exceptional and is a fine example of patience and decency. Neil has ensured that EAA South Africa is recognised officially by the EAA USA. Neil has built 2 NTCA aircraft which are regularly flown. In his time as Chairman of EAA Chapter 322 Johannesburg, the paid-up membership of the Chapter has grown to over 300 members. Neil was awarded a Special Award by the EAA Board of EAA USA in July this year for his dedication and contribution of Recreational Aviation, the only one presented in 2022 by the organisation which has 260 000 members worldwide.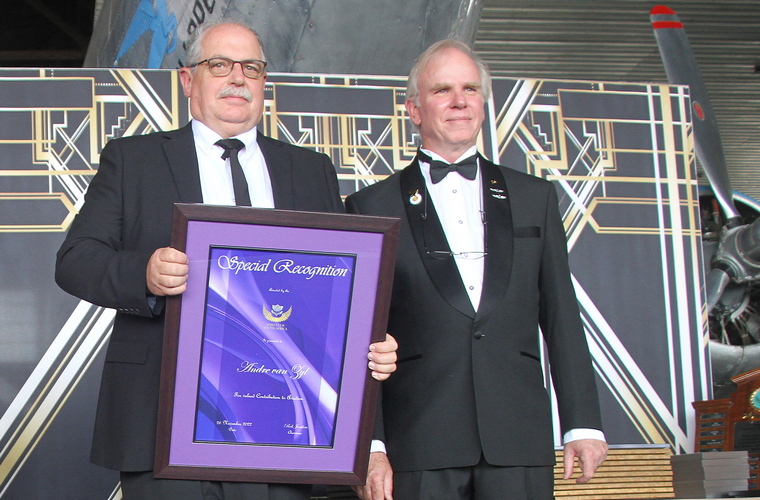 Andre van Zyl is an ambassador for gyroplanes, always ready to assist where possible with representing SAGPA at air shows and fly-inns. Andre assists on a yearly basis with the Children's flight 'Willy Wonka' at Magaliesburg for his own account. We recognise him for his dedication to gyroplanes and aviation.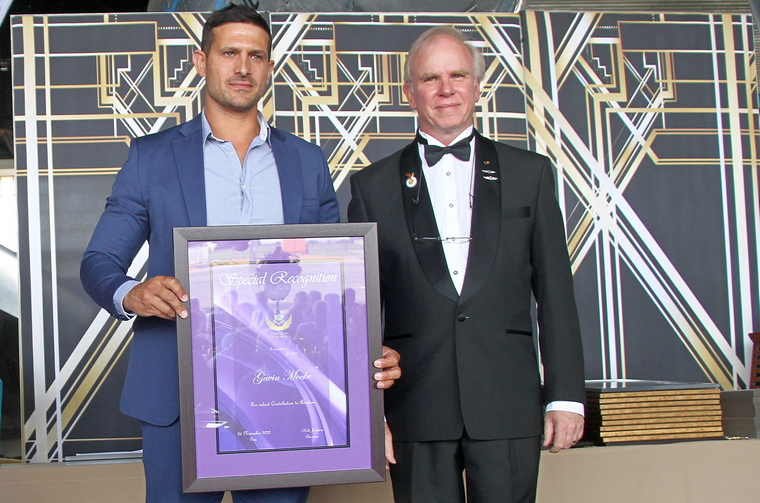 On the 8th of December 2021 on an airstrip in Piketberg, Western Cape, Mark Bellingan was in the process of doing a proficiency flight check under the watchful eye of Gavin Mocke. Mark ultimately crashed the gyrocopter. Unconscious from the impact, he was trapped in the wreckage that was almost instantaneously engulfed in flames from burning fuel. Gavin waded into the burning wreck, without regard to his own wellbeing, and was able to free Mark. He was then able to drag him clear of the inferno. Gavin, for your brave and unselfish act to not only save the life of a fellow human being, but to save our 'brother', friend, and fellow pilot. WE THANK YOU.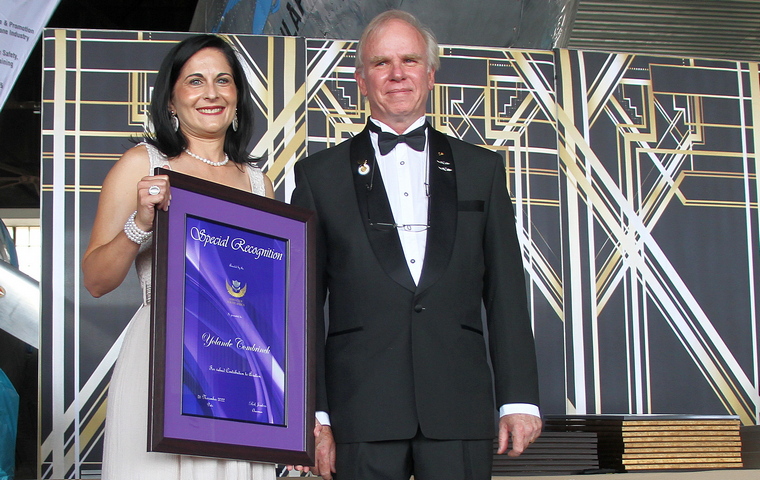 SAGPA would like to recognise the contribution that Yolande Combrinck has made to our section. With her numerous certificates, qualification, and experience, she is well placed to assists Aeroclub, SAGPA and MISASA with the ARO related matters, and SACAA interactions with Audits and proposed regulations and amendments. SAGPA would like to Honour her for her effort and contribution over the years.


We were at least able to redeem some of the celebrations in 2021 with our Airweek which was very well supported and able to take place within a small window of reduced lockdown restrictions, and many aviators had come out to fly having been cooped up for so long.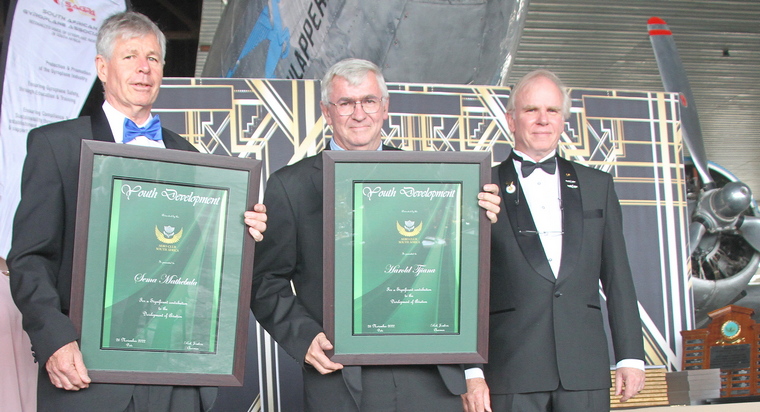 The Youth Development Certificate is awarded to two worthy recipients this year. Semakaleng Mathebula and Harold Tjiana attained their Balloon Pilots Licences through the Aero Club/SRSA grant scheme. Congratulations!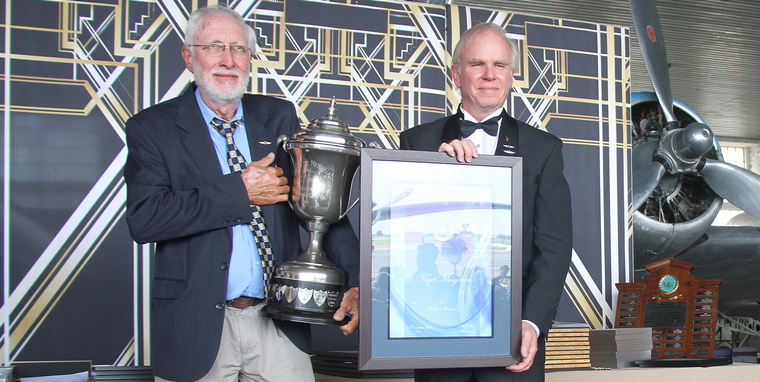 The Don Tilley Safety in Aviation was awarded to Nigel Musgrave. Nigel Musgrave has demonstrated not only a passion for flight safety but has involved himself in every EAA and many other flying events country wide as the Official Safety Officer or assisting other where has was not appointed Chief Safety Officer. Nigel has fastidiously ensured that all Flight Safety paperwork required by the CAA in preparation for events is timeously submitted and has shown no fear or favour when there are deviances from approved practices. Often Nigel's Safety Officer duties include travel and the use of his own personal equipment, carried out without remuneration or compensation. He is a member of EAA Chapter 322, Johannesburg and Aero Club of South Africa. We recognise and thank Nigel for keeping us safe at our events. We thank him for his helpful attitude and his willingness to serve the aviation community.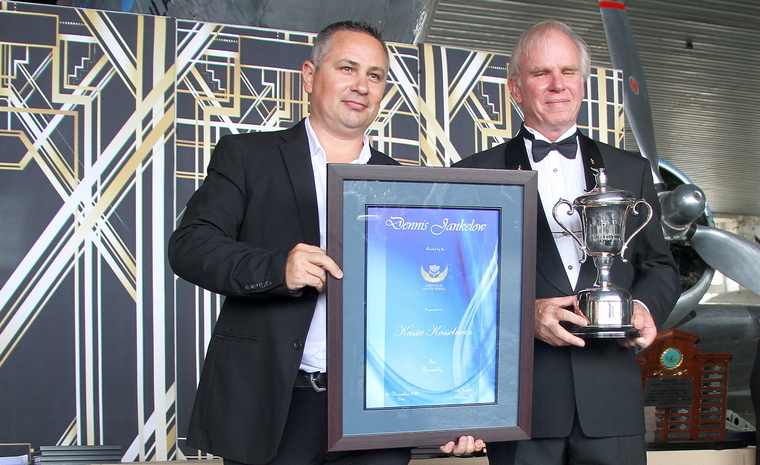 The Dennis Jankelow - Airmanship Award went to Kassie Kasselman. He took part in the Presidents Trophy Air Race in 2022 held in Bloemfontein, where he showed stellar Airmanship during the event with many aircraft movements that make up the race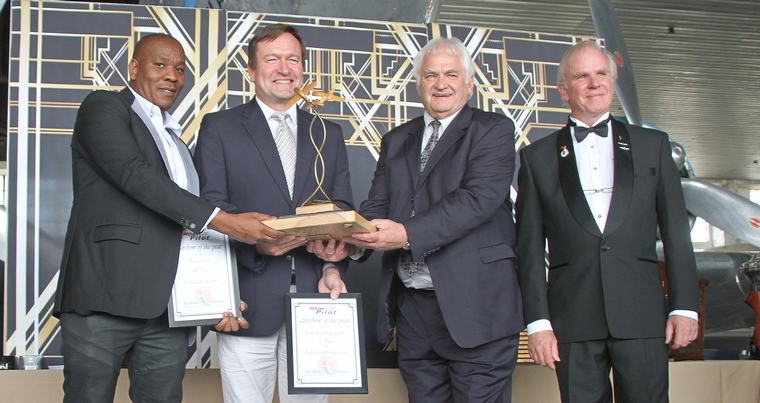 Two Air Shows were in contention for the African Pilot Air Show of the Year Award, The Rand Air Show and Stellenbosch Air Show. These two air shows were highly anticipated events on the aviation calendar and provide visitors with aerobatics, precision flying by South Africa's top pilots, vintage aircraft and more. Bringing the wonder of aviation to the public. Second place went to the great, grand Rand Air Show. The First Place this year with an air show which left the public awestruck with breath taking displays, and everybody wishing they were there was the Stellenbosch Air Show!


With 2020 & 2021 behind us, 2022 saw an industry revival, although we see it still muted from pre-2020 levels as the economic conditions started to bite and the global disruptions of inflation and logistics affecting most of us.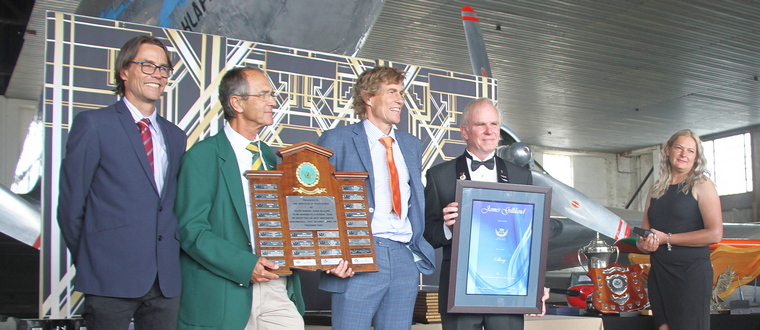 The first recipient is Sling Aircraft represented by James Pitman and Mike Blythe. On 19 July 2019, Mike Blyth and James Pitman of Sling Aircraft announced their Sling High Wing and accepted the first order on the day. To demonstrate the ability of this superbly manufactured South African design, they committed to fly the prototype from South Africa to AirVenture 2020. Unfortunately, with the devastating global effect of the Covid19 pandemic, for the first time in its 50-year history, the Experimental Aircraft Association cancelled this annual event for 2020 and again in 2021. The cancellation of the 2020 and 2021 trips resulted in the opportunity for not just one but THREE Sling High Wings to grace the skies. The three Sling High Wings departed Lanseria, Johannesburg at 06h15 on 17 July 2022 and landed at Oshkosh, Wisconsin on 27 July 2022. Their flight was 8902nm over 67,5 hours and 7 flying days.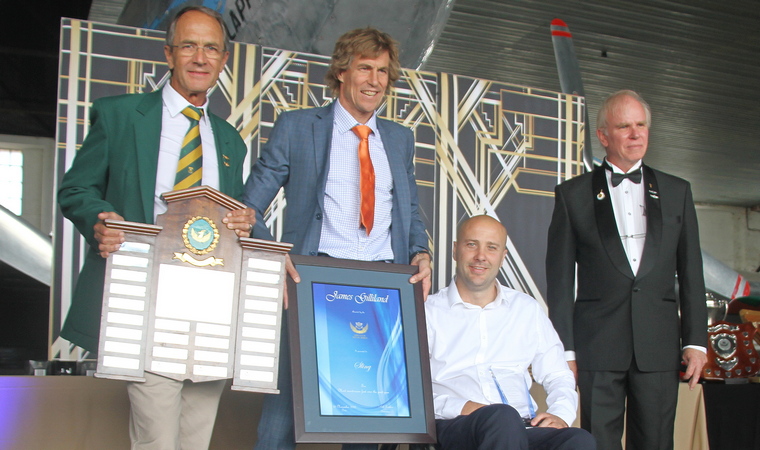 Matt Cohen, who lost the use of his legs in a motorcycle accident, recently obtained his private pilot licence. He insisted upon flying along with his friend James Pitman to Oshkosh in the prototype Sling High Wing aircraft. The aircraft was modified for hands only flight and Matt flew all legs of the route sitting left seat. Matt's determination and courage in undertaking this extremely long, arduous and physically taxing flight in a developmental light aircraft is also deserving of the highest recognition.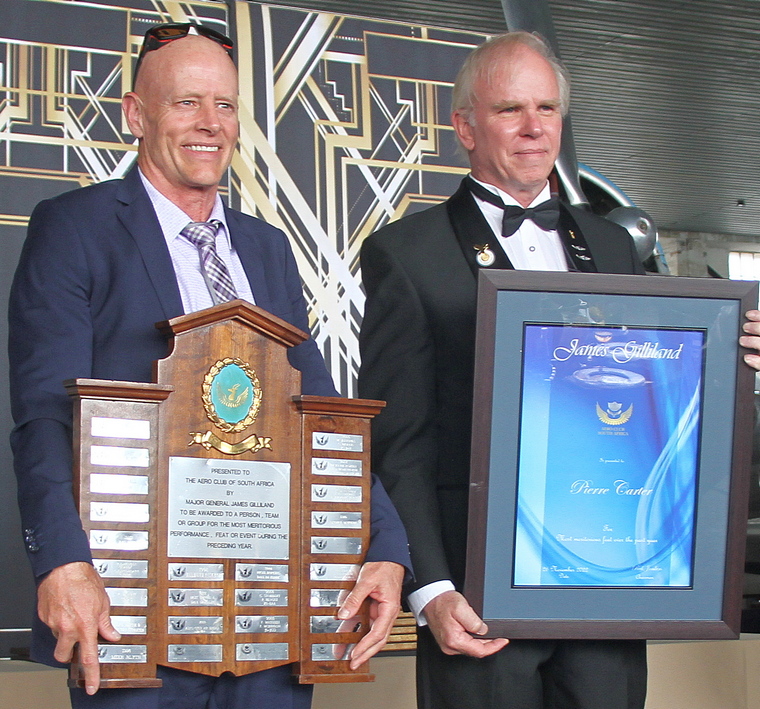 The second recipient of the trophy is Pierre Carter: The man who paraglided off Mount Everest and into the history books. Mountaineers tell you that climbing down Mount Everest is harder than climbing up. But this adventurous South African, Pierre Carter came up with an exhilarating, death-defying workaround: hang gliding his way back to the bottom. In May 2022 became the first person ever granted a permit by the Nepali government to glide off Everest. While it has been done by a few daring soles before, their descents were technically against the law. (None were ever fined or prosecuted) Pierre, 55 leapt off near the summit at an altitude of nearly 8000meters, that is 26246,72ft! He flew above the Himalayas as other mountaineers descended on foot. Carter flew down within 20 minutes, at a speed of around 80km/hr, and landed at the small settlement of Gorakshep at 5,164 metres. Due to adverse weather conditions Pierre did not climb all the way to the fop of Everest's 8,849meter (29032ft) summit before his flight from the South Col ridge around noon.Since 2005 he has flown off five of the seven mountains that make up the world's tallest summits on their respective continents, beginning with Russia's Mount Elbrus.Carter reached the summit of Alaska's Denali in 2016 but was not permitted to fly. He next aims to repeat the feat off Mount Vinson in Antarctica. This is truly one feat to go down in the annals of aviation.

We also continue to work closely with the CAA as the regulator on a number of topics, in particular supporting the General Aviation Safety Strategy on their various focus groups with the planned outcome of improving Aviation Safety, also supporting the Accident Reduction Weeks recently held. The Aero Club also continues to support our members with the on-line ATF renewal support initiative, which improves the quality of documentation supplied to the CAA which ultimately improves the turnaround times.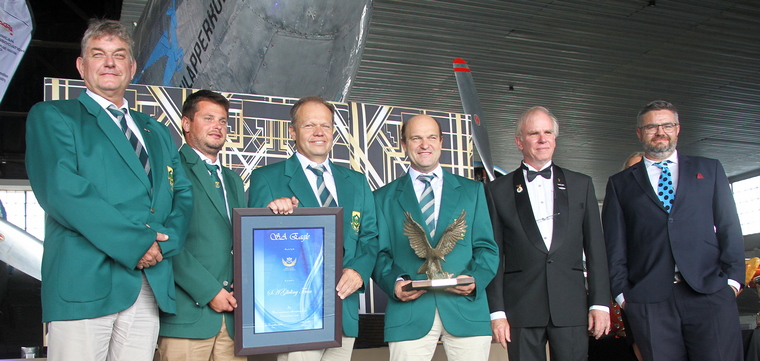 The SA Eagle trophy is presented to the SA Gliding Team for the Most Meritorious Achievement at an International Event. SA Gliding Team at Hungary World Gliding Championships (Szeged Hungary 2022) who achieved the 2nd place (Silver) in the country placing - SA's best ever result.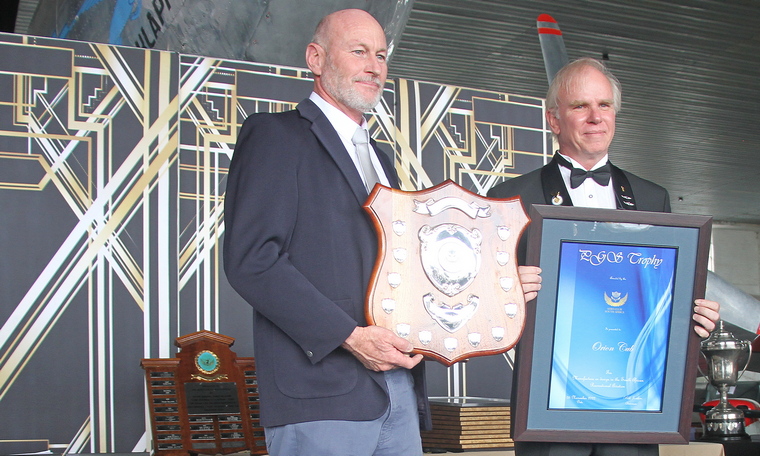 The PGS TROPHY for the manufacture or design in South African Recreational Aviation went to Kevin Hopper and his team of Dean Hopper and Aidan Cantin who have designed, built, and successfully flown a radical new design aircraft - the Orion Cub. The Orion Cub incorporates many design innovations that have all been created, and the majority manufactured in house. The aircraft can be built to fit the LSA Category or an aircraft what will be included in the NTCA Category with hopefully full certification in time. In the two years that it has taken to design and build the aircraft, all components were designed to be accurately replicated. The Orion Cubs will be available as kits with the FAA 51% rule in min or as inhouse-built aircraft with engine power ranging from 100hp-200hp. The design and build have included the training of Dean Hopper and Aidan Cantin in the skills required for this project, neither of whom had any experience in aircraft design or building. In doing so Kevin is ensuring continuity by equipping these young men with these valuable skills for the aviation industry. Kevin has made a major contribution to recreational aviation over many years, including the building and rebuilding of 19 Tiger Moths, each one has been expertly built and restored.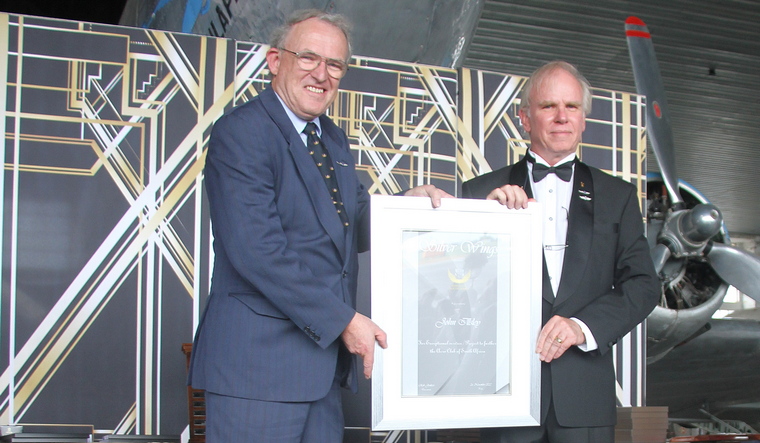 Silver Wings were awarded to John Illsey. John has been an Aviation Historian of South African Aviation for many years, and when approached to be the Editor for our own Centenary book, he enthusiastically took up the challenge. We started the initial outline in November 2019, given that we had gathered material since 2017 with a deadline to complete a first draft by end of January 2020, and final print by end of March to be in time for our 2020 Airweek. Well, we all know what happened in 2020, and given that many of us had some additional time on our hands, John set out to make the book the most comprehensive compendium possible featuring the richness of our Aviation heritage which became the 350-page volume that most of you have seen and enjoyed. Many thanks for having put together such a book in the time available, as South Africans we will demonstrate our unique and varied capabilities in Recreational Aviation.


I would like to extend my congratulations to all our award recipients today, they are the ones who have earned their place on the stage through the tumultuous times we are in, and we all recognise their many and varied achievements.
Gold Wings for at least 10 years meritorious service to the Aero Club went to Walter Walle (not present) Walter has served on the SAFPA committee since 1999, representing the Free State. He has coordinated the hosting of the President's Trophy Air Race several times in Bloemfontein. More recently he has been the chairman of our selection committee. He now has stepped down. We want to thank him for many years of service with the award.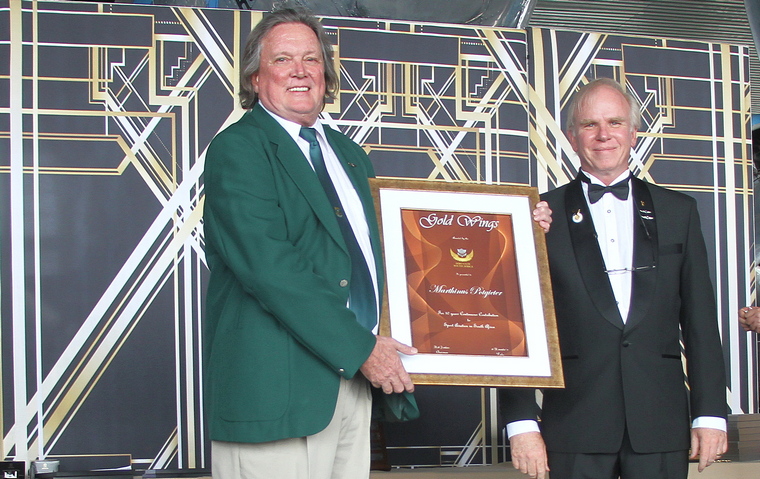 Marthinus Potgieter has served SAMAA since 2002, from 2012 to 2020 he served as Chairman of SAMAA and from 2020 to 2022 served as Vice Chairman of Aeroclub. In his vital role as Aeroclub Advocacy Representative he excelled, this during a challenging transitional period in the industry and rose to the occasion during the COVID period. We thank him for his Meritorious service

Mike Stark (not present) has served for over 10 years as member of the SAC committee and on the judging line, both locally and internationally and to Natalie Stark (not present} has dedicated over 10 years of service and commitment to the SAC in her important role as registrar and scorer. For her meritorious service to SAC, we award her Gold Wings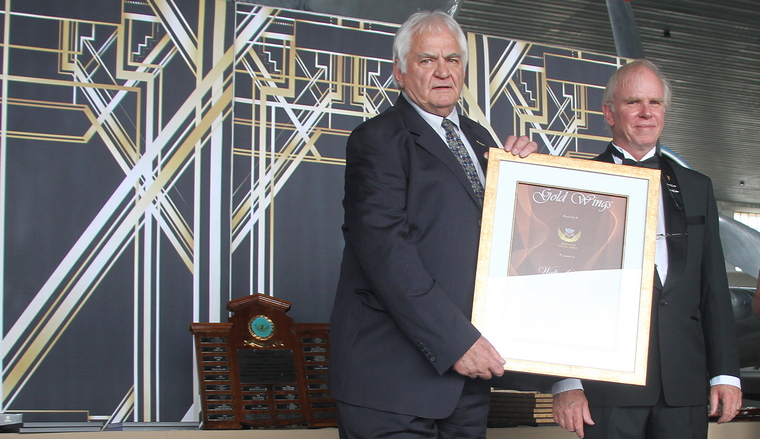 Walter Doubell has been a keen aviator and member of the General aviation environment for more than 20 years. His involvement starts as a private pilot and later the safety aspect triggered his interest. He became involved in fly inns and Presidents Trophy Air Race which led to the official accreditation as Safety Officer with ASSA at a later stage. His passion and drive to perfection did not stop there. He was soon spotted as a willing and able individual to share his knowledge and skills with the Aero Club board, elected Treasury of ASSA board and co -opted by the SACAA as member of the GASS initiative. His ability and passion to get involved with these activities are a great asset to the industry with his multiple tertiary qualifications from Potchefstroom University. For his meritorious service to ASSA & AeCSA, we award him Gold Wings.

Many thanks for the support and funding we receive from the Dept of Sports and Recreation, we have at least been able to catch up on the projects that went on hold in the 2020 and 2021 years, and have had good results from the funds utilised on these projects, and are ready for the next phase.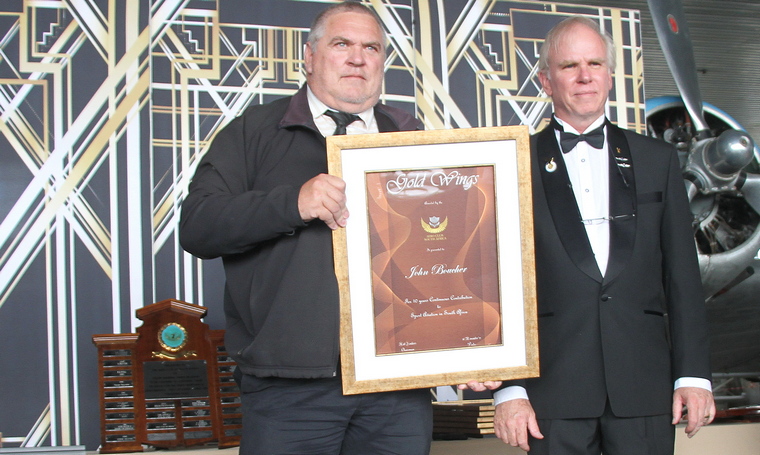 John Boucher has served uninterrupted on the MISASA Committee from 2009 to present and has uninterrupted service on the Aero Club Council since 2014. In MISASA, he has held the position of Scribe, P.R.O., Safety Officer, Vice Chairman and Chairman. He was instrumental and part of the organising committee for the popular MISASA Best of the Best events hosted at Tedderfield in 2012 & 2013 and then Kitty Hawk 2014 & 2015. Hh Has participated as Navigator in the 2006, 2007, 2009 & 2015 SAPFA President Trophy Air Races. He was part of the SAC & Aeroclub team, along with John Gaillard & Kevin Storie that secured, organised, and administered the inaugural FAI Intermediate World Aerobatic Championships hosted in Mossel Bay 2014. During the champs, he filled several active liaison roles with FAI judges and international teams. Since he was elected Chairman in 2015, has played a vital role with regards to the recreational aviation industry and the multitude of forums present and guided the MISASA Committee and members through challenging times. For his meritorious service to MISASA & AeCSA, we award him Gold Wings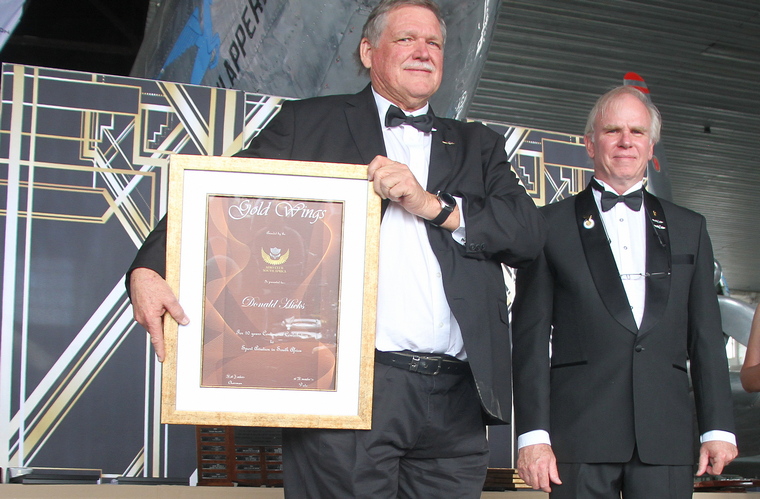 Donald Hicks - The Corporate Man. Donald has uninterrupted service on the MISASA Committee from 2008. He was also elected as Chairman in 2008 given his corporate experience. He also served on the Aero Club Board from 2008 to 2014. In MISASA, he has held the position of Events Co-Ordinator, Vice Chairman and Chairman and facilitates the KZN region. Started flying weight shift trikes and progressed to flying fixed wing and currently flies a Sling 2. Donald was part of the organising committee for the MISASA Best of the Best events hosted at Tedderfield in 2012 & 2013 and then Kitty Hawk 2014 & 2015. He has also organised several "Wild Coast Fly-Aways" He took up the position of Vice-Chairman in 2015, a position he still fills. He has played a pivotal role in the MISASA Committee with his sound, logical reasoning and guidance, especially through some really difficult periods in the industry. For his meritorious service to MISASA, we award him Gold Wings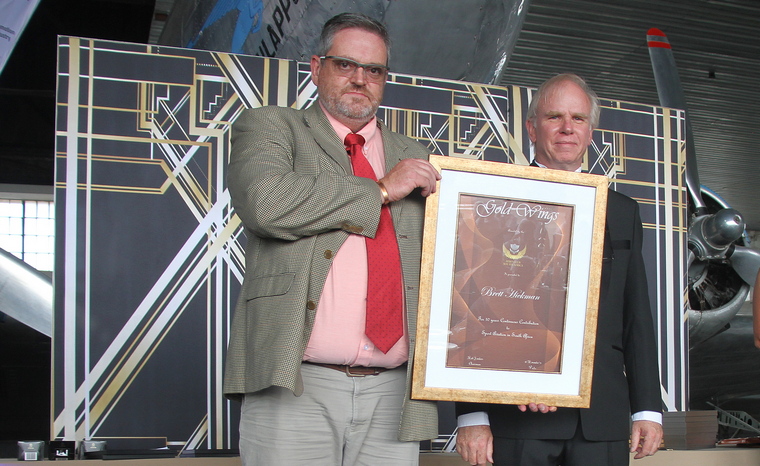 Brett "Bullet" Hickman - The Money Man. Brett has uninterrupted service on the MISASA Committee since 2008. He was also elected as Treasurer in 2008, a position still fills today on the committee. In MISASA, he has held the position of Treasurer. Started flying weight shift trikes in 2007 and progressed to flying fixed wing and currently flies a Cheetah. Was part of the organising committee for the MISASA Best of the Best events hosted at Tedderfield in 2012 & 2013 and then Kitty Hawk 2014 & 2015. He is also on the organising committee for the MISASA Numbi Africa Cup event… the longest running event of MISASA. He took over from Rob McFie as event organiser in 2014 and has managed it successfully and continued the sacred traditions of the Africa Cup. For his meritorious service to MISASA, we award him Gold Wings

Many thanks for Council support during the year, with most of us having to weather the economics of keeping our businesses going or recovering with our own Council activities suffering as a consequence, we sincerely believe that 2023 has to be better.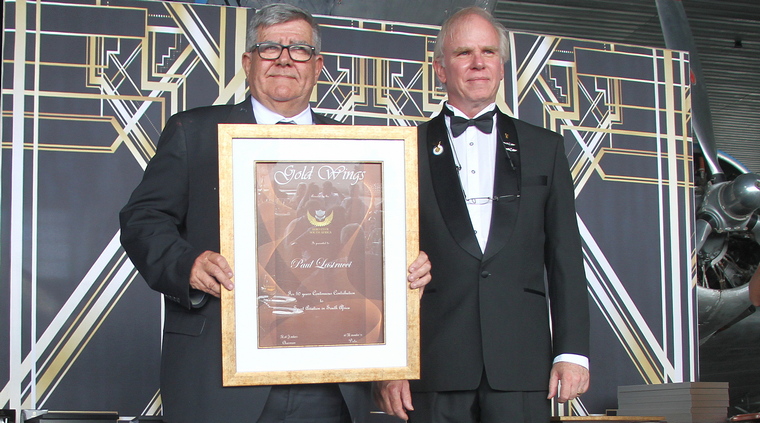 Paul Lastrucci is a member of EAA Chapter 322 Johannesburg and EAA USA since 1991. He has been an EAA and Aero Club member for many years and been heavily involved in the operation of the Krugersdorp Jack Taylor Airport as Vice Chairman Krugersdorp Flying Club 1993-1998 and Chairman 1998-2011. In 2012-2017 he was Vice Chairman AECSA and Chairman 2017-2019. In 2011 - 2012, Paul became National President of EAA of South Africa and again in 2022 until present and serves on the Board of Aero Club. He has a deep understanding of the advocacy pertaining to recreational aviation activities and maintains a strong relationship with the decision makers in the CAA. Paul's 'Olive Branch Approach' to negotiations on behalf of Aero Club, EAA and Krugersdorp Flying Club has resulted in successful resolution of often difficult matters and potential conflicts. Paul's residence is in Pretoria, and this has not deterred him from regularly travelling the long road distances to the venues where has been needed. For his meritorious service to the EAA & AeCSA, we award him Gold Wings.



Caroline Eckard. After marrying Frank at the end of 2009, Cally quickly got involved with the planning of Rally and Precision Competitions. Starting with helping Frank with the 2009 Springs Rally, and the route planning of the 2010 Rand Airport Challenge. She achieved her Protea Colours in 2010 and represented South Africa at the Slovakian World Rally Flying Championships. Cally and Frank were the Route Planners for the 2011 World Precision Flying Championships, and were tasked with rewriting the World Rules for both Rally and Precision competitions. More recently Cally and Frank were the Route Planners for the 2022 World Rally Flying Championships. To date Cally has been involved with the planning of more than 100 Rally and Precision Competitions. For her meritorious service to SAPFA, we award her Gold Wings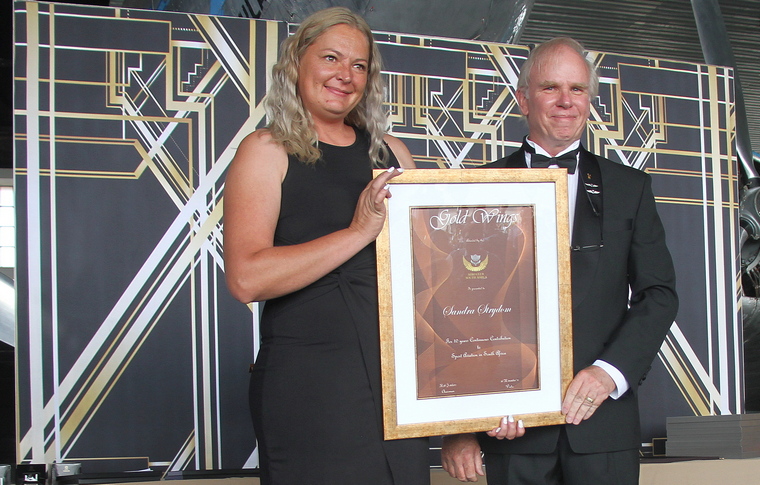 Sandra Strydom started at the Aero Club around 2011 in a support role along with the secretary of the Aero Club Secretary at the time. Sandra has worked diligently over the past eleven years and has been at the forefront administering several changes at the Aero Club from the membership system as well as the membership value add that was recently implemented by the Aero Club. Sandra has lead the daily office requirements as well as been a vital link between the Aero Club Sections always at hand to field queries and requirements of the Aero Club membership. Sandra is in daily contact with all the sections where necessary, always with a courteous and highly efficient culture that she has maintained for over ten years at the Aero Club. Sandra treats the tasks at hand very diligently and is always reliable to ensure all deadlines are met. She has built up a friendly and professional rapport with each of the sections and is always on hand to assist. For her kind, efficient meritorious service to AeCSA, we award her Gold Wings


Many thanks to my Exco Marthinus Potgieter, Walter Doubell, Iaan Myburgh and the Office staff Sandra & Charne for their support keeping the Governance of the Aero Club in good shape. Marthinus who had stepped down at our last AGM graciously continued the Advocacy role for a further 3 months while Walter stepped up to take over, and I thank him for the all the years supporting us in the key role of Advocacy.
Many thanks to Flippie Vermeulen who has again provided this excellent Aviation themed venue for our awards ceremony, also for the Harvard café for their support, Main Event catering, Unlimited Events.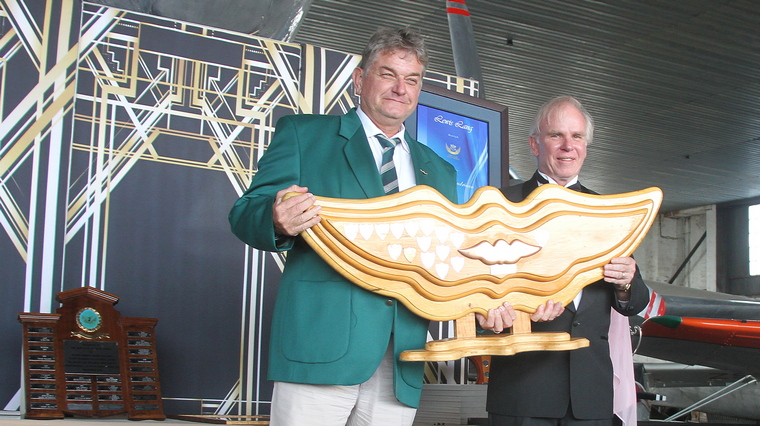 The Lewis Lang Trophy for the Pilot of the Year was awarded to Oscar Goudriaan. Oscar achieved second place and won silver at the World Gliding Championship (2022) in Szeged Hungary. He is our pilot of the year for the spectacular achievement. Congratulations!

Many Thanks also to Sandra Strydom for putting together this awards ceremony from the event planning to facilitating the award certificates, also many thanks to Frank Eckard as the Awards Coordinator with your Awards team to carry out the research and develop the citations for all our recipients, and keeping the Awards register up to date.
Google Banner Ad