Compiled by Willie Bodenstein

Image credits: The World Games

Google Banner Ad



24-07-2022

The FAI World Air Games is the premier, international, multi-discipline air sports event conducted under FAI rules.
A true air sports extravaganza, it attracts the world's top air sports athletes, all vying to be awarded the title of FAI World Air Games Champion in their chosen discipline.
The Games started in 1997 in Turkey and have since been held in Spain (2001), Italy (2009) and Dubai, UAE (2015).
The aims of the event include showcasing air sports to the general public and attracting new participants, as well as promoting FAI events to other sports organisations and creating an attractive platform for TV, media and other external stakeholders.
THE WORLD GAMES 11 JULY 2022: DRONE RACING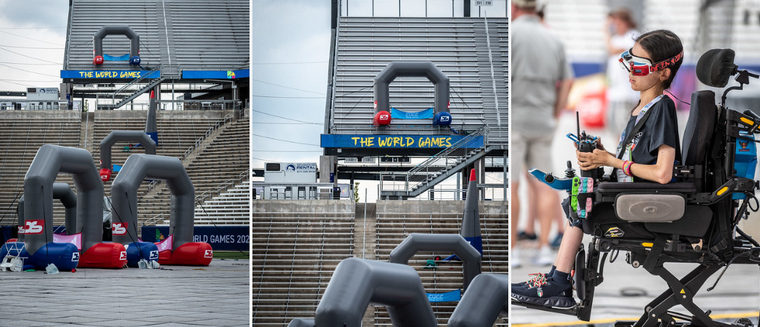 Drone Racing tests a pilot's ability to race a drone around a specially built course, often flying through gates and around obstacles to reach the finish line in the fastest time. Fast-paced and exciting, it's one of the fastest growing Air Sports in the world. The drones used in Drone Racing competitions are generally built by the pilots themselves and are designed for speed and agility. Radio-controlled with engines powered by electric batteries, they often travel at speeds of more than 100 mph. That's why Drone Racing pilots wear headsets with a live-streamed FPV (first-person view) of the action. This recording allows both pilots and fans to enjoy the illusion of flying at breakneck speeds, all without taking their feet off the ground.
Google Block Ad
Killian Rousseau, representing France, won the gold medal in the drone racing at the World Games 2022 in Birmingham, Alabama, USA. The 17-year-old came first in all rounds of the competition - a clear winner in this challenging competition in which four pilots raced their FPVs around the obstacles in the Birmingham's Protective Stadium.

THE WORLD GAMES 2022 DRONE RACING WINNERS:
Killian Rousseau (FRA)
Pawel Laszczak (POL)
Alejandro Zamora (ESP)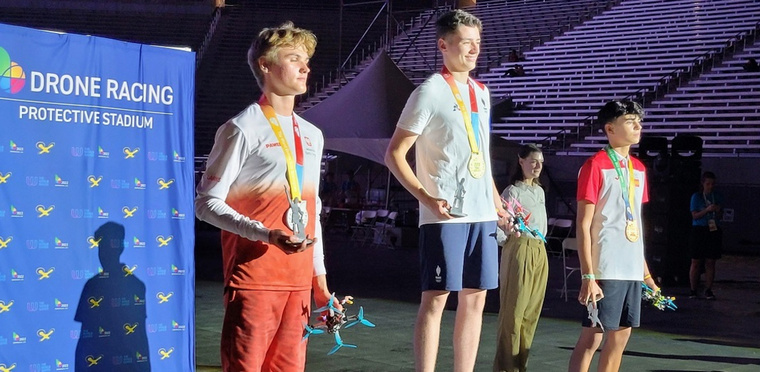 The three nations on the podium at The World Games 2022 drone racing. Image: Greg Pyzalka.

Rousseau's gold medal is not his first: he was champion in the Drone Racing World Cup 2018. Silver medal winner Laszczak, aged 19 gained fourth place in the FAI World Drone Racing Championship 2019. Despite being just 14 years old, Zamora is likewise no stranger to success, having gained an impressive fourth place in the 2017 Drone Racing World Cup.
Also, very well-known in the drone racing community as female FAI World Drone Racing Champion 2019 and 2018, Thailand's Wanraya Wannapong was the highest placed female in the competition. She took 10th position in a truly international top 10, with three continents represented between the 10 different countries.

One of nine female pilots participating in the drone racing contest. Image: IWGA

THE WORLD GAMES 2022 CANOPY PILOTING SUMMARY 10 JULY



Canopy Piloting is one of the most exciting disciplines in Air Sports. The event tests a parachutist's ability to control a canopy accurately at high speeds. After jumping out of an aircraft, competitors spiral downward toward a performance zone - a long stretch of water known as a "swooping pond." There, as they descend across the swooping pond, they are scored on speed, accuracy and distance. In the freestyle round, scores are given for technical difficulty, presentation and landing.
This discipline requires a high level of skill and experience. Many of the top competitors are professional parachutists or work for parachute manufacturers on the development of new canopies.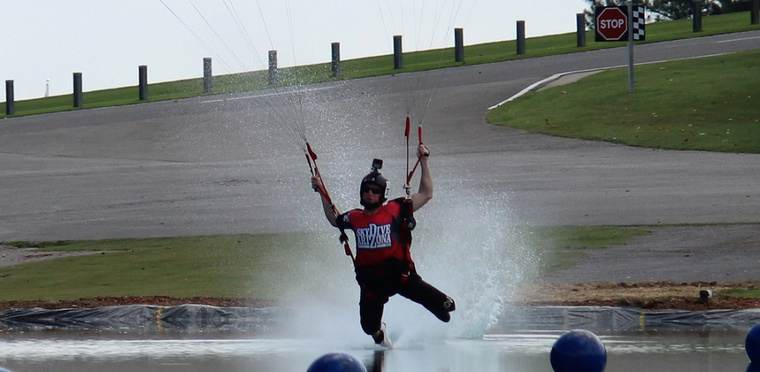 Ten thrilling rounds have taken place so far in the Canopy Piloting competition at The World Games in Birmingham, Alabama, USA. Cedric Viega Rios (FRA) is currently holding first place with Nicholas Batsch (USA) in second and Abdulbari Qubaisi from UAE in third. All three have had some excellent results but also some rounds which didn't go as smoothly for them.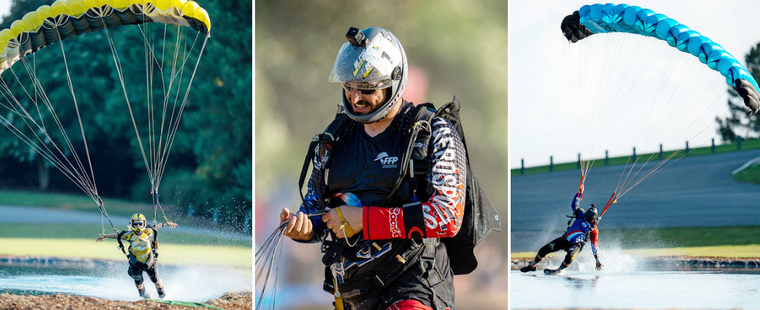 Nicholas Batsch gained a gold medal at The World Games 2017, whilst Cedric Viega Rios was 9th and Abdulbari Qubaisi placed 4th, so all must be hoping to be on the podium in 2022. Cornelia Mihai (UAE) who took a bronze in 2017 is currently in 7th place in this mixed competition. Curt Bartholemew who gained silver in 2017 is currently in 10th place. Interestingly, pilots from Team France, Team USA and Team UAE are occupying the top 7 places, just like in 2017.
Only two rounds took place due to weather conditions. Round 2 in Distance and Freestyle took place and saw Nicholas Batsch (USA) take first place in Distance, followed by Cornelia Mihai and Abdulbari Qubaisi both from UAE. Batsch took first again in the Freestyle, then Denmark's Christian Webber came second then Cedric Veiga Rios (FRA) took third.
THE WORLD GAMES 2022 SUMMARY 11 JULY


Round 2 Accuracy and Speed contests took place on 11 July, followed by Round 3 Distance and Freestyle. Roman Bubsky (SVK) took first in Accuracy, followed by Jeannie Bartholemew (USA). France's Kevin Techer arrived in third place. Jeannie's partner Curt Bartholemew (USA) came first in Speed, followed by Cedric Veiga Rios and Germany's Kai Bunkus.
Nicholas Batsch's current form took him all the way to first place in Round 3, followed by two French team members, Techer and Eric Philippe. In Round 3 Freestyle, Leigh McCormack from Australia took first, then Max Kossidowski (GER) followed by both Bartholemews, with Jeannie pipping Curt to the post to gain third place.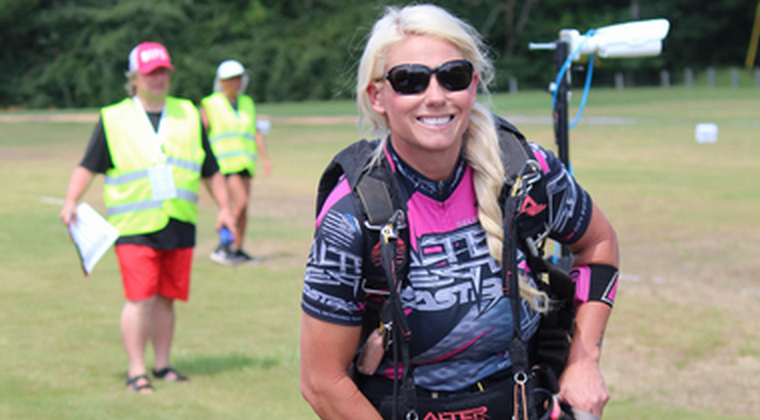 Canopy piloting Jeannie Bartholemew at The World Games 2022.

Australia's Leigh McCormack gave an insight into what the competition is like for the pilots, via instagram:
"… the rules for this comp are different due to the restrictions we have with the landing area. We have to drag all the gates like we normally do in Zone Accuracy, then stay below the bollards at the 100-metre mark, after dragging all that water it is quite an effort to get to the bollards!"

USA's Nick Batsch is having a good contest, despite struggling with the speed rounds. On the two rounds held on 10 July he placed first for both, commenting via instagram: "Yesterday was an awesome day for me in competition at the World Games 2022 in Alabama!…After a frustrating speed round the first day, I was able to secure the longest distance of the meet with zero wind at 176 meters… I am feeling great and I look forward to what today's competition will bring!"
THE WORLD GAMES 12 July 2022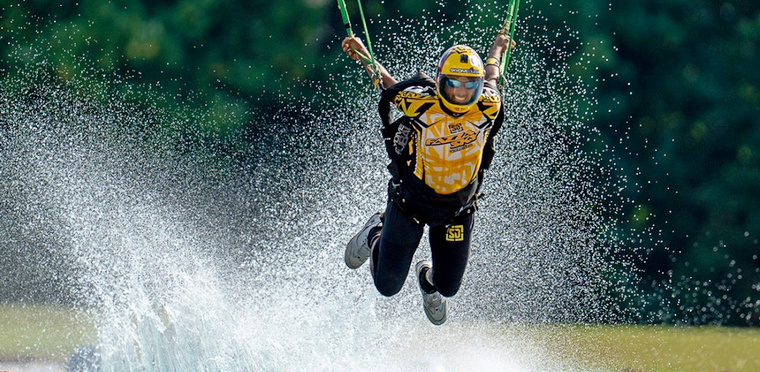 France, USA and UAE On the canopy piloting podium

France's Cédric Viega Rios (pictured below) has won the canopy piloting competition at The World Games 2022, with top scores throughout the 12 rounds held at Barber Motorsports Park in Birmingham, Alabama, USA. Nick Batsch of the USA gained a silver, after several first places, despite two low scores in two of the speed rounds. UAE's Abdulbari Qubaisi (pictured above) scored especially well in distance and freestyle rounds to gain a bronze medal.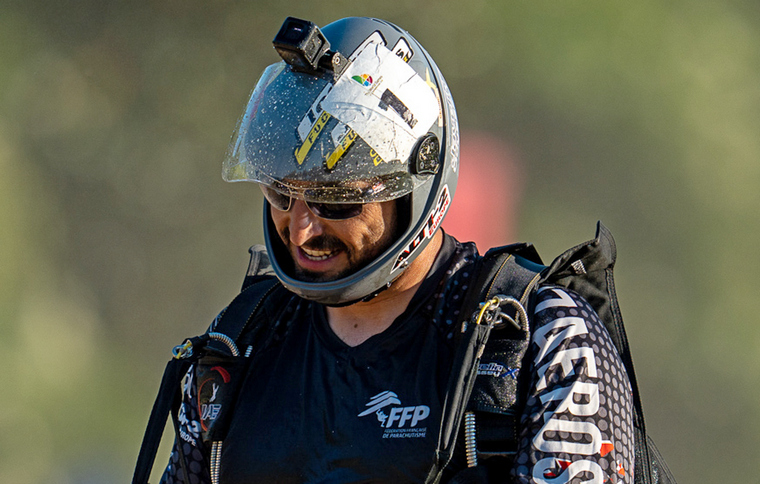 Cédric Viega Rios (FRA), winner of The World Games 2022 Canopy Piloting.

TWG2022 CANOPY PILOTING WINNERS
Cédric Viega Rios (FRA)
Nicholas Batsch (USA)
Abdulbari Qubaisi (UAE)


The exciting competition, commentated by Regan Tetlow, saw 34 pilots from 16 nations compete. France, UAE and USA occupied the top 7 places, with some well-known names among the top competitors. Of the three female canopy pilots, the highest-placed woman was Cornelia Mihai (UAE) in 7th position, with Jeannie Bartholemew (USA) coming 23rd and Robin Jandle (USA) taking 25th place.
Batsch is a former winner at The World Games, having taken the gold in 2017. Cédric Viega Rios came 9th in The World Games 2017, with Qubaisi creeping up from fourth place in 2017 for his bronze medal in 2022. Viega Rios still currently holds a drag distance 50m world record that he set in July 2021, with a distance of 195.32m, with his distance of 196.52m from July 2017 still holding the max distance record. He has also previously held speed records. Batsch has also held previous distance and speed world records, and Qubaisi gained a South-Asian FAI record in 2017 for a max distance of 167.89m.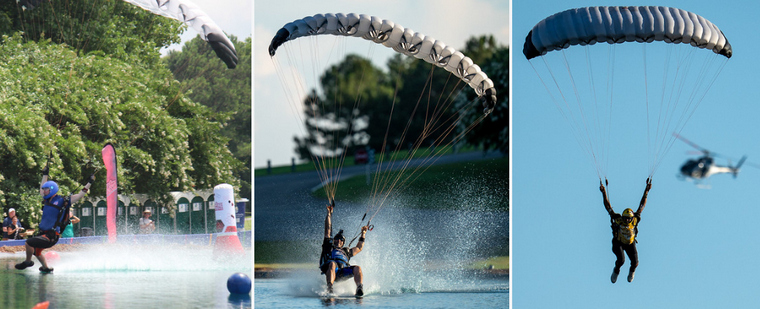 TWG2022 canopy pilots swooping across the pond in Birmingham, Alabama.



Google Banner Ad