My tenure as Chairman of PASA only commenced half way through 2018 when our former Chairman, Graham Field, stepped down due to work commitments abroad. I have been on a steep learning curve since and am pleased to report on behalf of the PASA Management Council as follows:
National Competition


South African National Skydiving Championships, 28 March - 2 April 2018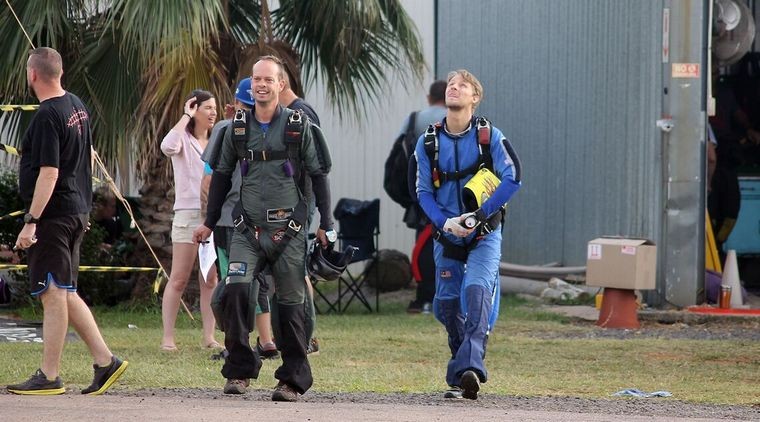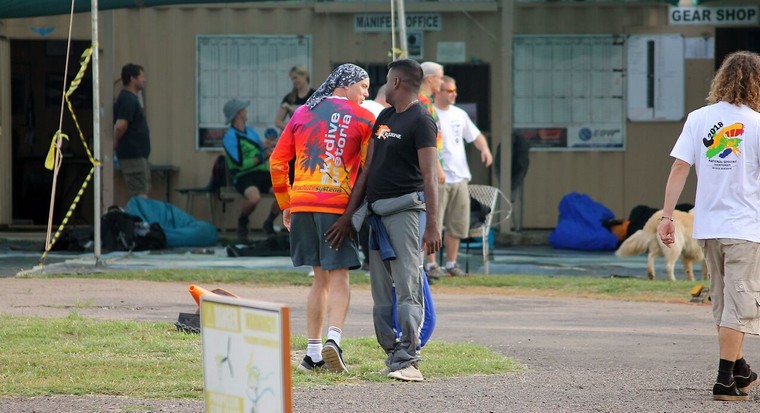 Photo Jaco Pitout/www.pilotspost.com

Rustenburg Skydiving Club hosted the South African National Championships again in 2018.
There were 5 teams battling for the 4-way Novice trophy which bodes well for future competitions in this discipline.
As was expected, this was a well-organised event with nothing being too much trouble for the always affable hosts.
South African National Canopy Piloting Championships, 29 April - 1 May 2018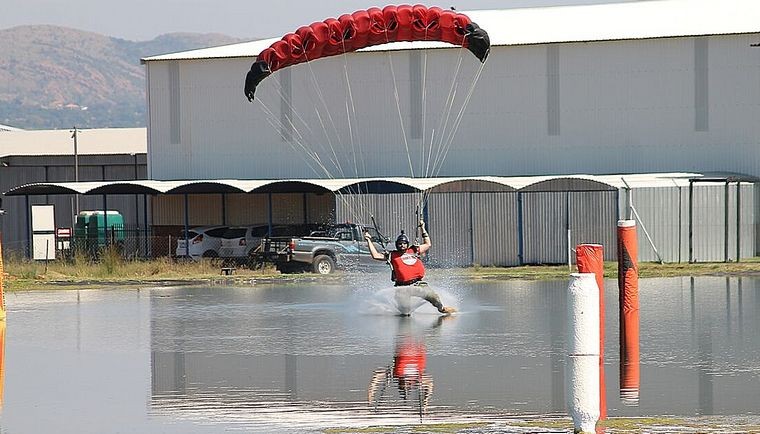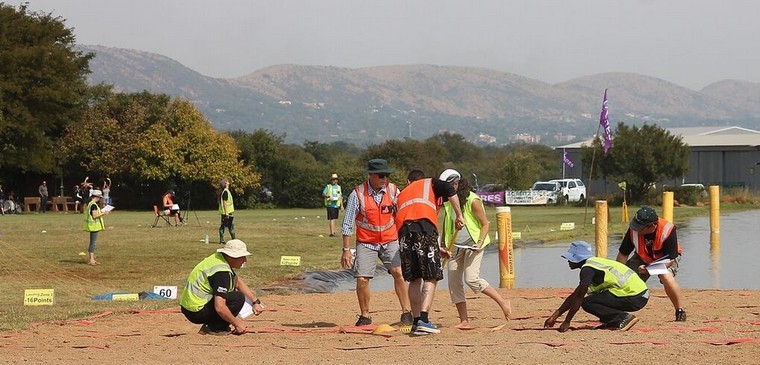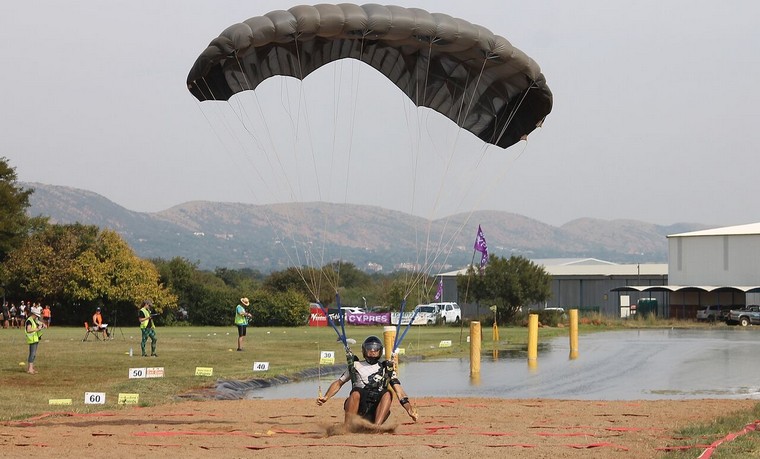 Photos Jaco Pitout/www.pilotspost.com

South African Canopy Piloting Nationals 2018 was hosted by Skydive Pretoria. After a tight competition, top honours in the Open category went to Christopher Teague.
International Competition


Looking ahead to 2019 we are extremely proud to say that the
10th FAI Canopy Piloting World Cup
will be hosted
by
Skydive Pretoria from the 19th to the 24th of November 2019. We have no doubt they will put on a world class event.
2018 saw some great achievements by our athletes who are all self-funded.
1st FAI World Canopy Piloting Freestyle Championships and the 7th FAI World Canopy Piloting Championships held in Wroclaw, Poland from 3 to 7 July 2018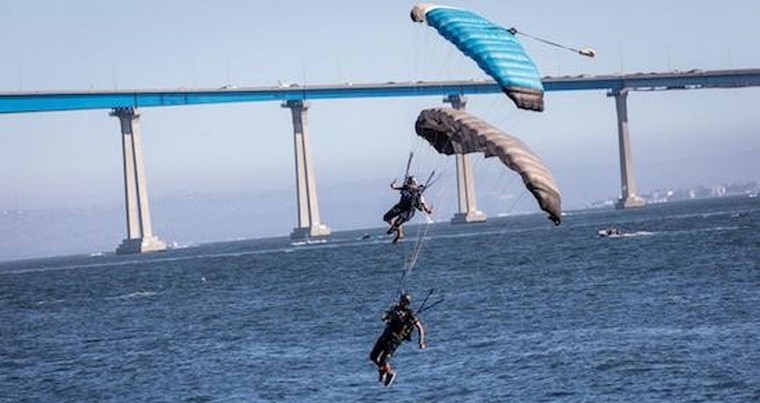 Chris about to land and Billy filming. Photo Logan Donavon

Chris Teague and Matteo Pagani represented South Africa at this event. Regrettably, Matteo Pagani shattered his foot on a training jump the day before the competition was due to start. This left only Chris Teague competing amongst 85 of the world's best pilots from 24 different countries. Chris secured 16th place overall. This strong result led to him being one of only 18 pilots from around the world invited to the exclusive Swoop Freestyle World Championships held over two legs in Copenhagen Denmark and San Diego USA.
2nd FAI World Wingsuit Flying Championships, held in Prostejov, Czech Republic from 26 August - 2 September 2018

Hendri Liebenberg represented SA at this competition where 23 nations were represented, with 63 performance competitors and 5 acrobatic teams competing.
Hendri placed 55th overall and was honoured to have had this opportunity to compete against, and learn from, the world's best and he is committed to representing South Africa again at the World Cup in 2019 and the World Championships in 2020.
Vertical World record attempts 2018 at Skydive Chicago, USA 13 - 17 August 2018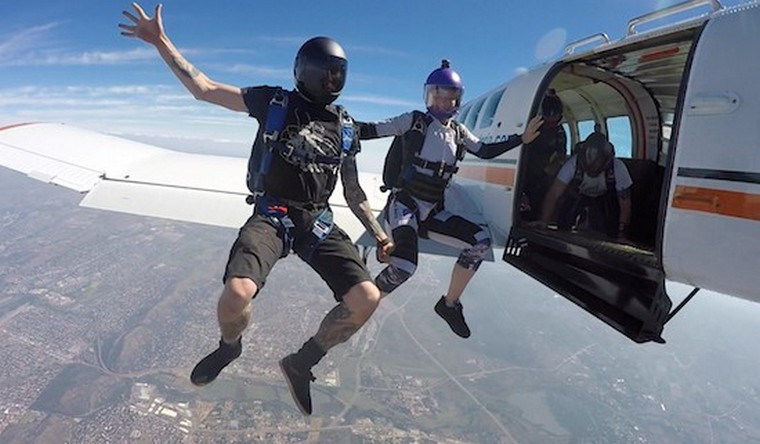 Photo credit Naomi Kotzee

Naomi Kotzee was handpicked to be one of 200 FAI licensed skydivers from all over the World who attended the Vertical World record attempt to break the previous World record of 164 Vertical Head Down flyers set in 2015, which Naomi was also part of. Due to really bad weather conditions, the participants only got 11 attempts in, in 2 and a half days so the record was not broken but it was pretty close. The attempt would certainly have been successful if they had had the full five days.
Swoop Freestyle FAI World Championships 2018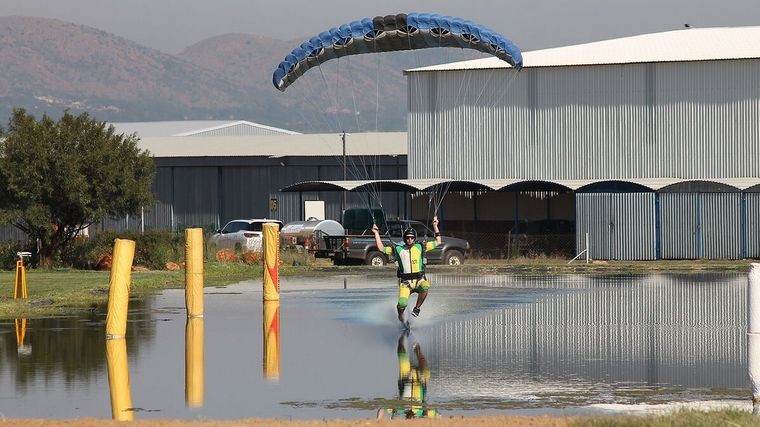 Photo Jaco Pitout/www.pilotspost.com

Unlike all the other major skydiving competitions on the international calendar, the Swoop Freestyle FAI World Championships is an invitational event for 18 of the world's finest canopy pilots from across the globe. This is the newest, cutting-edge air sport discipline that involves competitors flying at high speeds across a body of water in order to score points based on style and execution. Christopher Teague was invited to participate in this FAI sanctioned event which took place in two cities - Copenhagen (Denmark) and San Diego (USA). Fellow South African, William Sharman, participated as an air-to-air cameraman. His exceptional work was viewed all over the world both live and post-production. A world first live production, across two cities on two continents, with live scoring, was enjoyed by thousands of people from all corners of the earth. Chris placed 7th in Copenhagen. San Diego proved more challenging with exciting open water conditions and Chris finished 14th, bringing his overall championship position to a tied 11th. With 18 cherry-picked athletes, 2 international city venues, open-door helicopters, wingsuit demonstrations, night free fly displays, pyrotechnic night swooping shows, huge flag jumps and powered and aerobatic paragliding this makes for an incredible show. The event is planned to be extended to 4 cities in 2019 and 8 cities the year after. The South African Canopy Piloting committee is actively looking at possible locations in South Africa for inclusion in 2020.
23rd World Parachuting Championships 2018 held on the Gold Coast in Queensland, Australia - 6 to 13 October 2018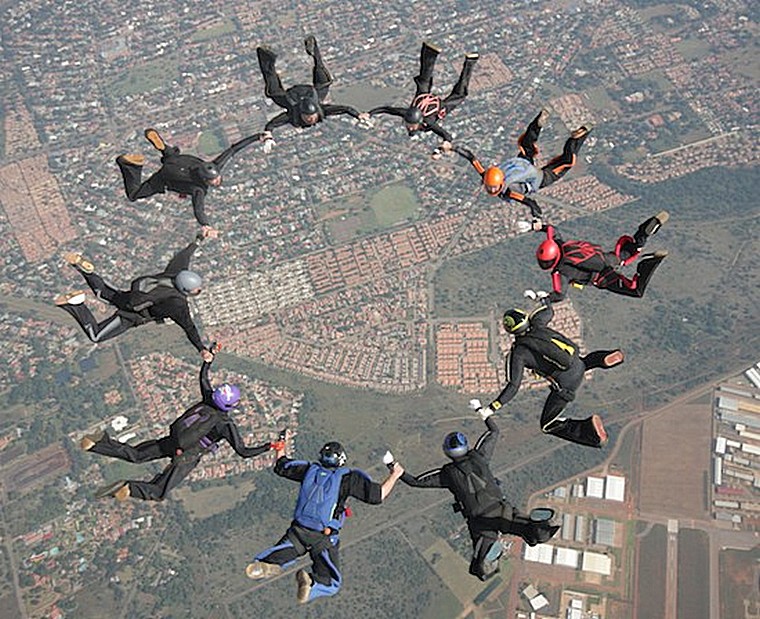 Photo credit Bailey Edmunds


A total of 27 nations and over 600 competitors attended this event. The South African team - MERAKI, represented by Carmen Edmunds, Bailey Edmunds, Yolandi van den Berge, Ian van den Berge and Bernard van Rensburg on camera competed in the 4-Way Formation Skydiving event over 10 rounds and achieved an average of 14.4, resulting in 16th place overall. This was an excellent showing by MERAKI which, as a new team having formed less than a year ago, were able to hold their own in this competition.
World Cup of Indoor Skydiving 2018 at Gravity Indoor Skydiving in Bahrain - 25 to 28 October 2018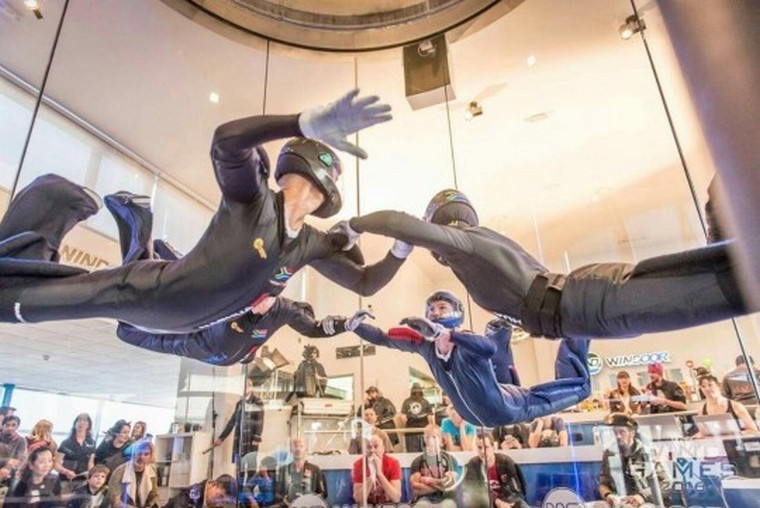 South Africa was once again represented in the Formation Skydiving 4-Way event by team Jazz Republic (Claire King, Dirk Venter, Bailey Edmunds and Nico Hickley). 25 nations competed in this World Cup and Jazz Republic placed 16th in the final results with a 19.8 average over 10 rounds.
Records


A number of new Africa records set by PASA members were ratified by the FAI in 2018:
Chris Teague set a new Carved Speed 70m Canopy Piloting Record of 2.404 seconds on 4 July 2018
Hendri Liebenberg set two new records on 30 August 2018 - Greatest Distance Wingsuit Flying of 3.898km and Greatest Speed Wingsuit Flying of 260.3km/h.
MERAKI set a new 4-way highest average for ten rounds record of 14.4 points on 12 October 2018.
Jazz Republic set two new records - 4way longest sequence Indoor Formation Skydiving record of 28 points on 26 October 2018 and 4way highest average for ten rounds Indoor Formation Skydiving record of 19.80 points on 28 October 2018.
Administration

2018 was a trying year with a decrease in both membership numbers as well as new students trained. We will be looking at ways to counter this although, in the current economic climate, we don't expect this to be easy.
The PASA administration system continues to be upgraded on an ongoing basis, as and when funds are available, making the system invaluable to the efficient running of the sport. We have also upgraded the PASA website to give a new, fresh look and make it more responsive for use on smaller screens.
Nearly 54 000 parachute descents were performed around the country in 2018 of which 258 were demonstration jumps at public venues to showcase our sport. PASA issued 58 new A licences, 46 B licences, 29 C licences and 12 D licences as well as 20 Jumpmaster ratings, 8 Coach ratings, 11 Professional exhibition (Pro) ratings and 18 Tandem Master ratings. Two instructor courses were held in December.
We are very proud that one of the Tandem Master ratings issued was to former recipient of Aero Club / SRSA funding, Sakhele Tyakume. In July 2018, Sakhele performed tandem jumps at an Aero Club Transformation and Development section event hosted in conjunction with Skydive Rustenburg, the aim of which was to introduce people from previously disadvantaged communities to skydiving. Representatives from the government's sports and recreation department were also present at the event.
I am grateful for the support of all the office bearers who dedicate themselves selflessly to the running of PASA and look forward to another year and all it brings our way.
Vernon Kloppers
Chairman