30.05.2022




Google Banner Ad



It was again time for the Rainbow Air School Klipriver Airfield annual fly away. For the 3rd consecutive year, I was joined by former student and good friend Darrell Band in his Rainbow Cheetah ZU-DPC, aka "Blou Bul". After heading westwards to fly the pans in the North West in 2020 and along the Botswana border in 2021, we decided to head south with our eyes set on the Drakensberg.
Although we had dates between 25 April and 5 May provisionally reserved, we knew that we had to be flexible to ensure the best possible weather. This trip was not about getting from point A to point B but to take in the amazing scenery that the Drakensberg has to offer. Also, to spend time with interesting and likeminded aviators along the way.
Bookings were made for overnight stops, with a planned departure date of 27 April, 1st stop Ladysmith. Unfortunately, a front was predicted to move in over KZN from the 29th, only clearing on the 1st of May…This would make day 3 to 5 of the trip rather unpleasant. The call to postpone crossing the escarpment was probably the best decision ever.
Leg 1: We departed Klipriver Airfield at 06:30 on 29 April and decided to spend the 1st two nights at Moreson Game Ranch, which is six miles south-west of Vrede. The weather was perfect, affording the opportunity for some formation flying with the two Cheetahs.


Ready to depart from Klipriver Airfield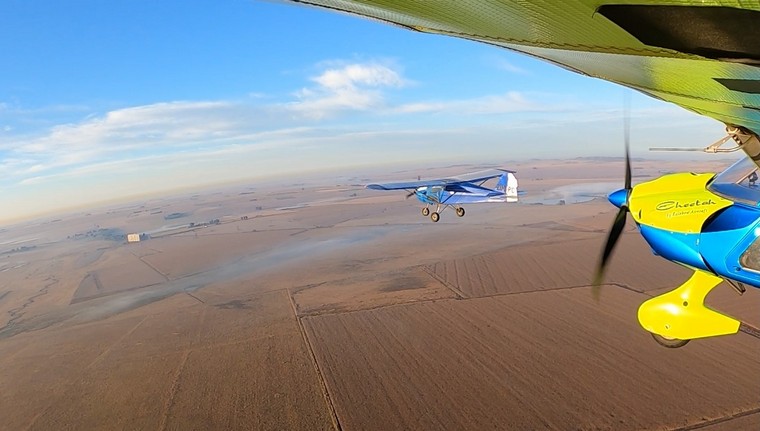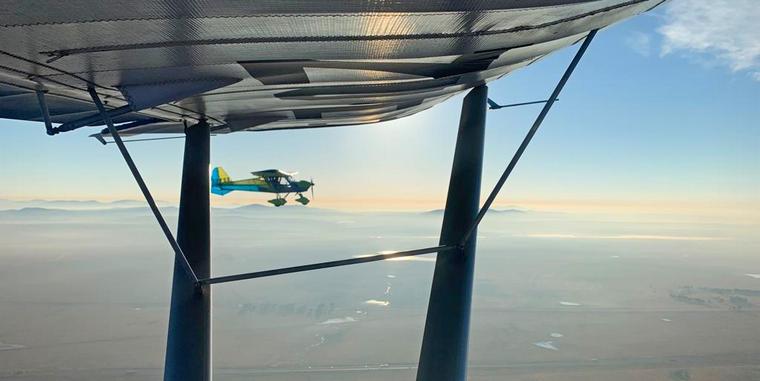 Formation with Cheetahs

We headed to Bothasberg for an aerial view of the game farm and then hopped across the valley to a flat top mountain directly south of the town. The mountain had a manicured grass field on top which I'm sure would be suitable for landing, with permission from the owner of course…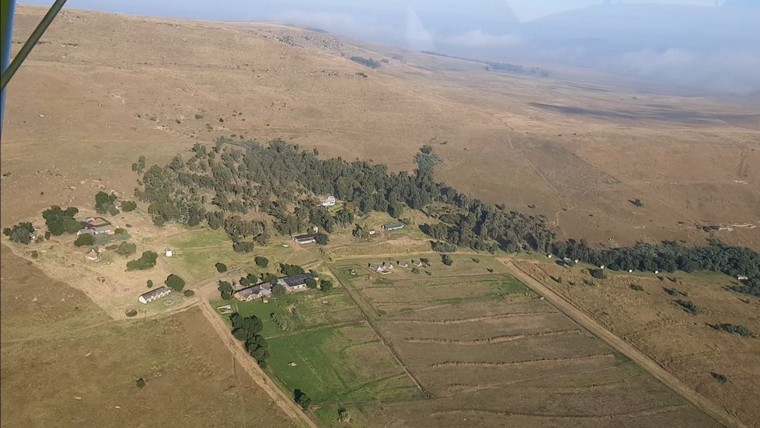 Abeam Moreson Game Ranch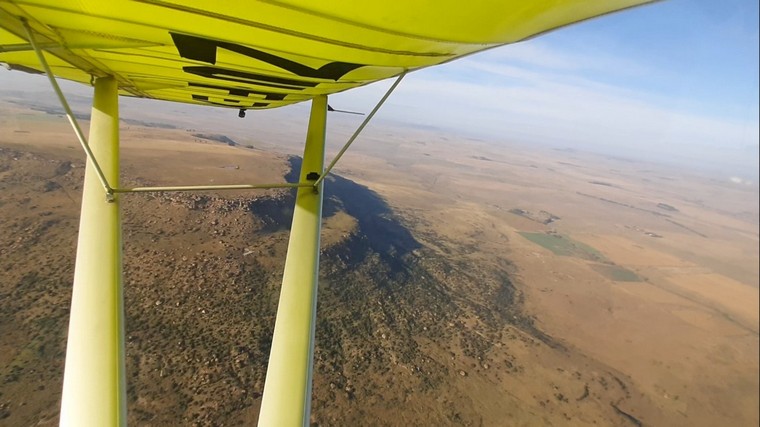 Mountain Top field south of Vrede

From there we headed for a private airstrip just North of Vrede owned by Gaffie, who was kind enough to offer us hangarage as one of his crop dusters was away for a service. Total flying time: 1h45min.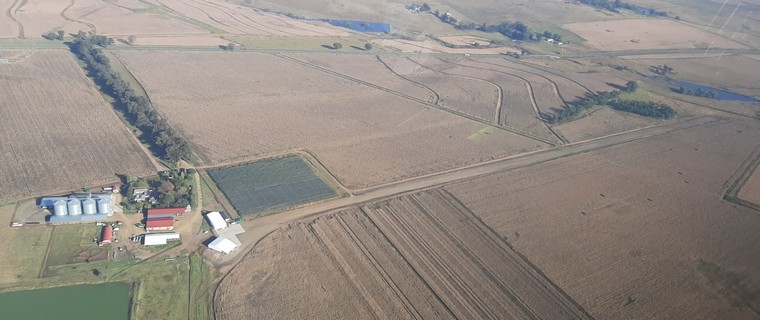 Gaffie's Airstrip north of Vrede




Landed at Vrede




Hanger at Vrede

Warren Ross Allen, also a student at Rainbow Air School, picked us up and took us to Moreson Ranch, which is owned by his father-in-law.


Lion Cubs at Moreson Ranch


We spent the weekend there with Darrell taking the opportunity to go on his 1st hunt, originally looking to get a Blue Wildebeest. The Wildebeest were illusive and he settled for a Red Hartebeest. We obviously could not take the carcass along on the trip but fortunately Warren's wife, Cornel runs a butchery and deli (Boerie Co) on the farm and offered to process and deliver the meat to Johannesburg. Thanks to Warren and his family for hosting us.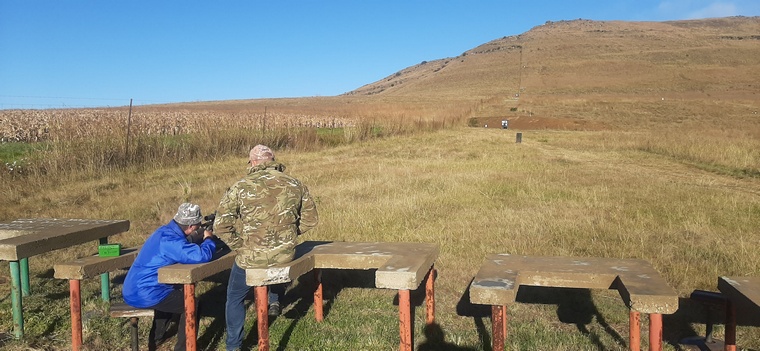 Darrell getting his eye in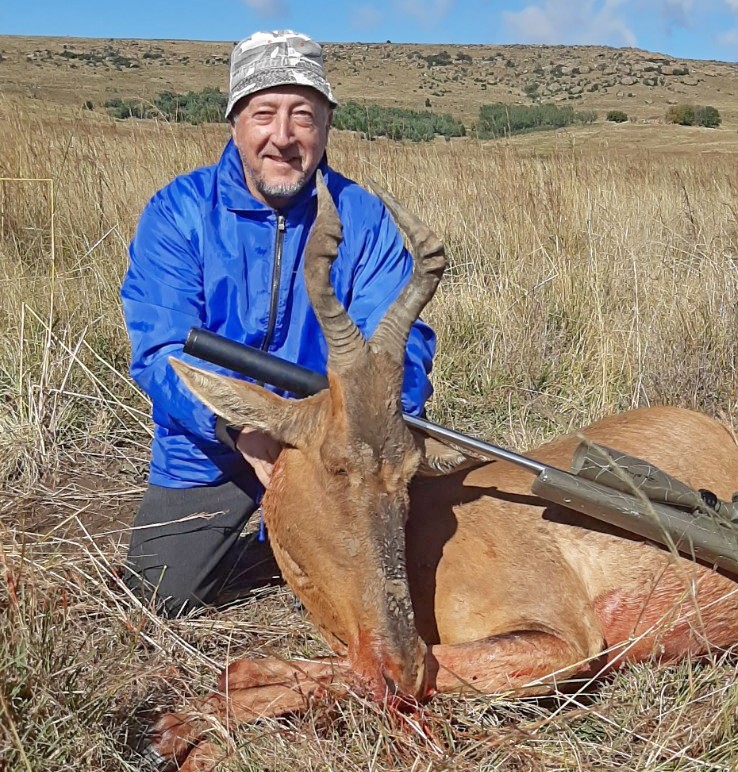 Darrell's 1st Hunt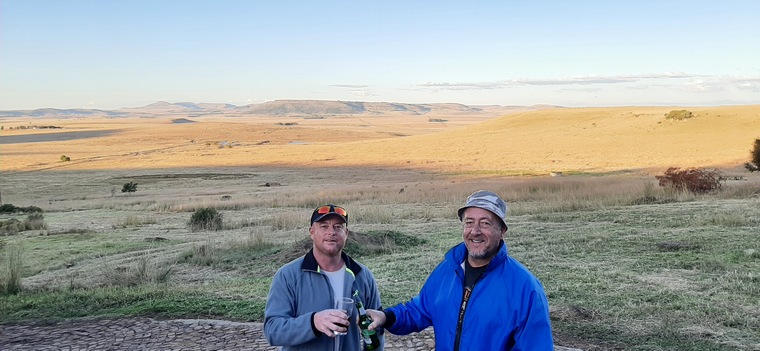 Beautiful views for sundowners at Moreson Ranch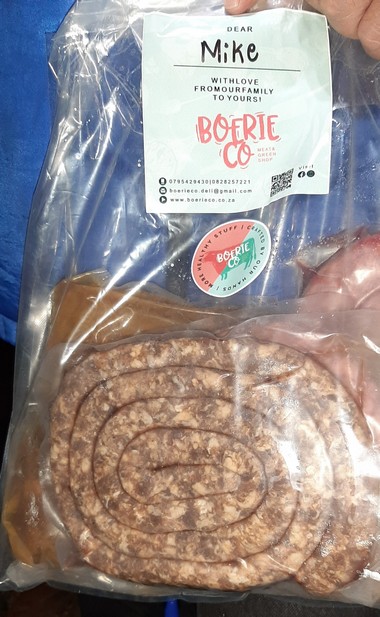 Meat supplied by Boerie.Co

Leg 2: Vrede to Ladysmith. An overcast and misty morning had us concerned if we'd be able to cross the escarpment. We waited it out a bit and phoned Larry van der Merwe based at Ladysmith. It was clear at our destination and fortunately the cloud cover over Vrede started to dissipate.
We took off around 10:00 and started climbing to clear the high ground ahead. We routed along the Witkoppe south of Vrede and crossed the highest point of escarpment abeam Skeurklip (7756ft). We had a bit of wind from the east but no severe turbulence coming off the mountains.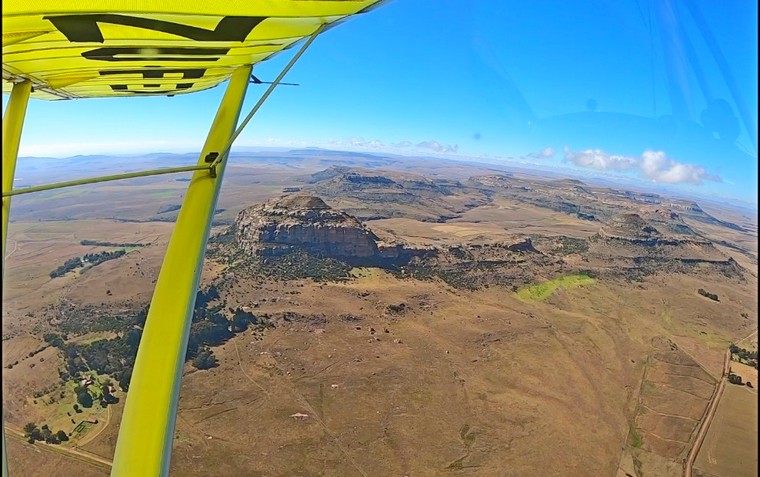 Witkoppe south of Vrede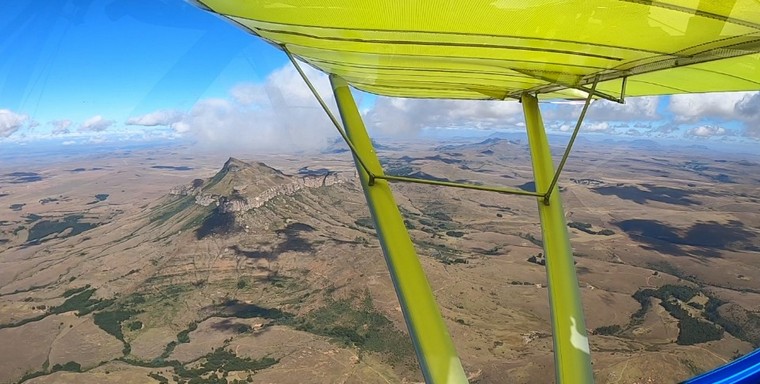 Skeurklip Mountain

About 6miles south of Skeurklip, on the edge of the escarpment, we overflew a beautiful dam but was not visible on my map, so had to be quite new. I later established that it was the Bedford Dam, which is part of the Eskom Ingula Pumped Storage Scheme, which was completed in 2017. We descended into Ladysmith for a full stop landing, total flying time 1h30min.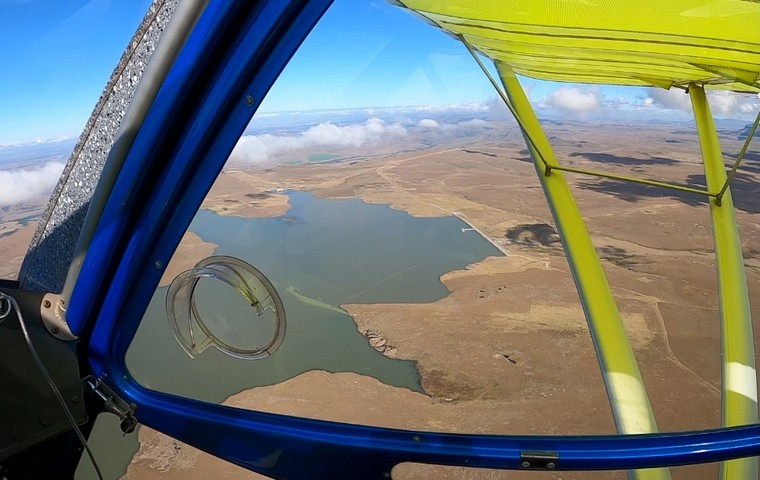 Bedford Dam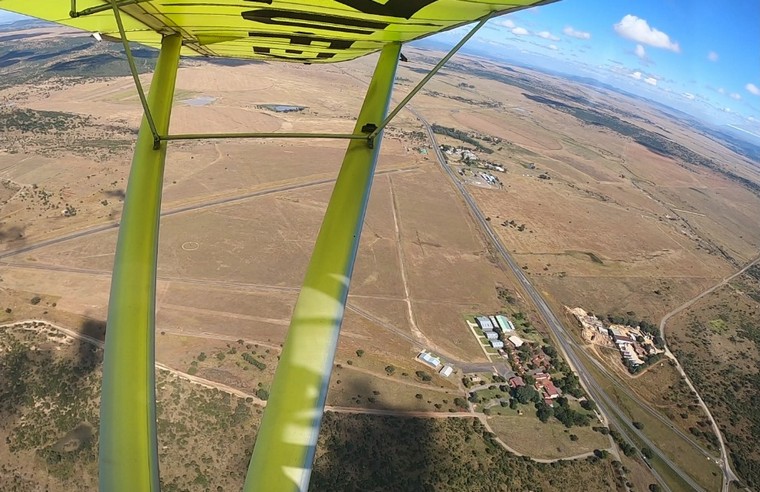 Abeam Ladysmith Airfield



Arrived at Ladysmith Airfield

We booked into the Ladysmith Motel, which is situated on the Airfield premises. Walking into the dining room was like time travelling back to the 70's, perfectly preserved and spotless. Around 4pm we met up with Larry who just returned from a flip in his beautiful Piper Cub. Larry and Bertus from Rainbow Air School Ladysmith were the perfect hosts. They arranged fuel and offered parking for the Cheetahs in the Ladysmith Flying Club hanger.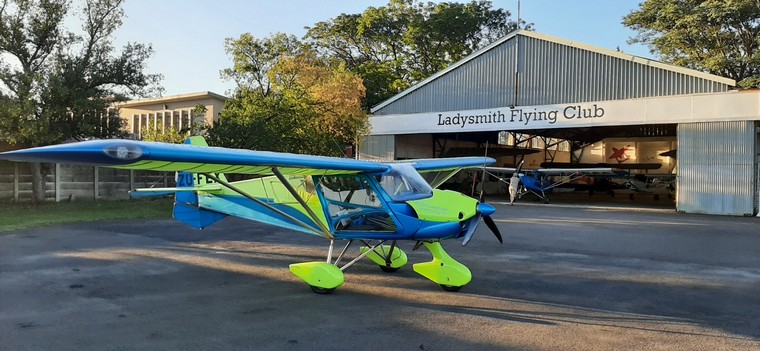 Ladysmith Flying Club Hanger with Motel in the background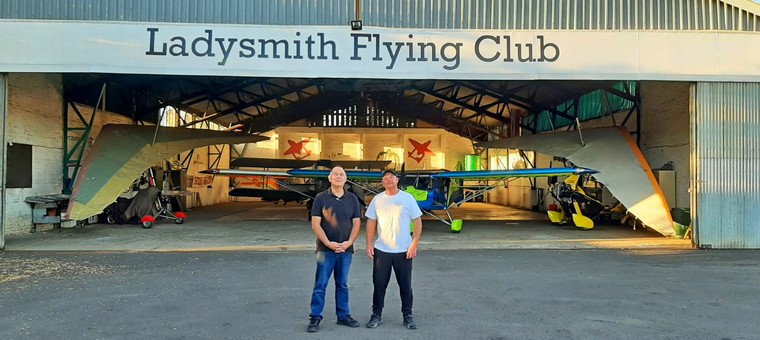 Larry van der Merwe (owner Rainbow Air School Ladysmith) and Michael Skinner (Owner Rainbow Air School Klipriver)

After securing the aircraft, we were invited to a braai with Larry, Bertus and their families. Bertus kept feeding us from the fire and aviation was the obvious subject of discussion. Thanks to the guys at Ladysmith for your awesome hospitality; we'll definitely be back for a follow up visit.


Larry's hanger and Piper Cub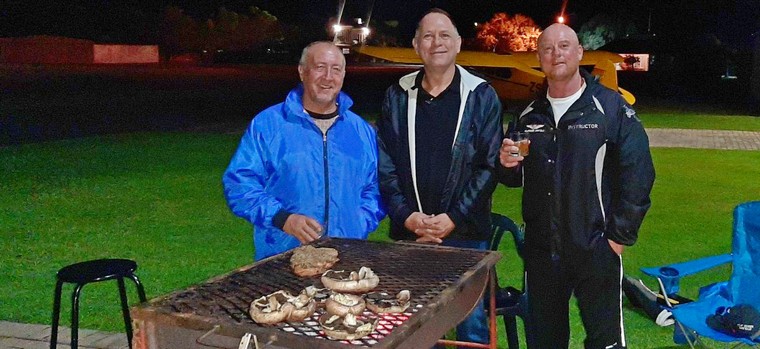 Around the braai with Larry and Darrell




Rainbow Air School Ladysmith

Leg3: Ladysmith to Himeville. The weather forecast initially predicted mist over Ladysmith, but we woke up to a beautiful morning with not a breath of wind or a cloud in sight, perfect conditions for our next leg that would take us along the south eastern edge of the Drakensberg escarpment.

Clear morning at Ladysmith

We took off around 8am and started climbing. We crossed the N3 west of Colenso and the ground started getting higher and higher…
Approaching Giants Castle, the landscape changed from farms and informal settlements to untouched hills and valleys with numerous waterfalls. Considering the rugged terrain and no roads, very few people must have laid eyes on these.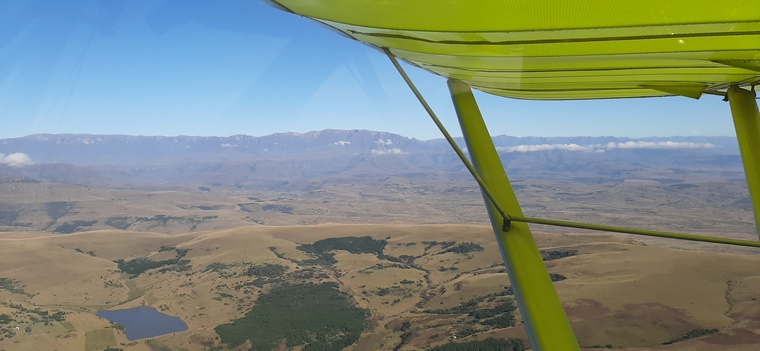 The ground starts rising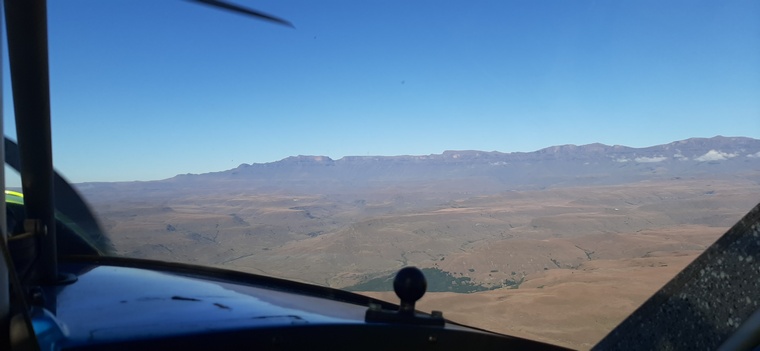 Clear morning at Ladysmith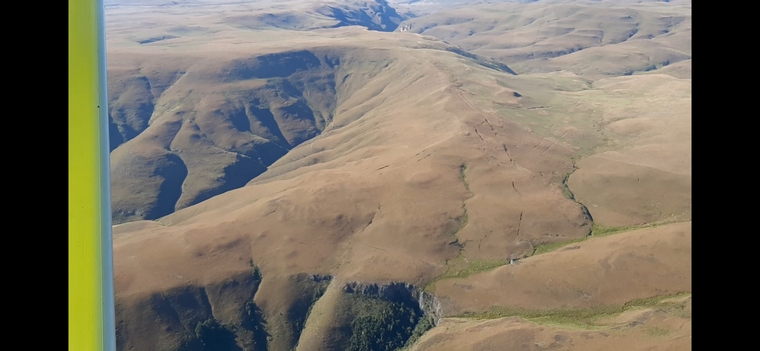 Two of many waterfalls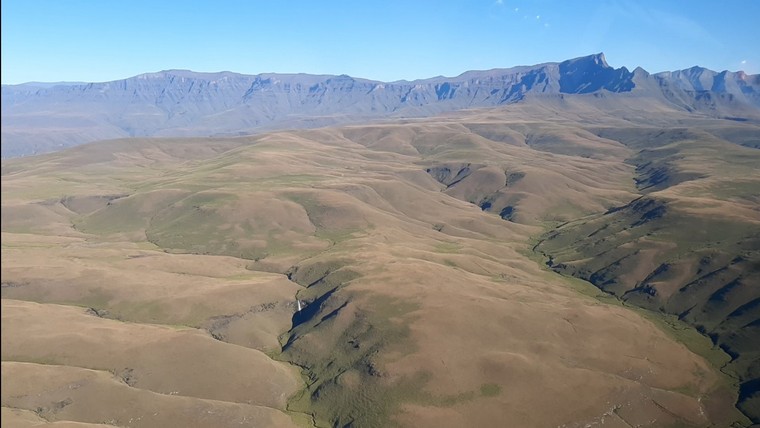 Another waterfall

To our right was the majestic Giants Castle Peak at an elevation of 10873 ft. At that stage, I was at 8500 ft looking up at the beast, no words or pictures can do this sight justice, you'll have to go see it for yourself.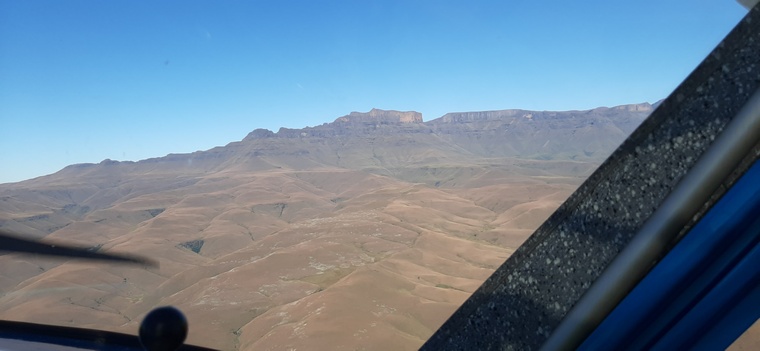 Giant's Castle Peak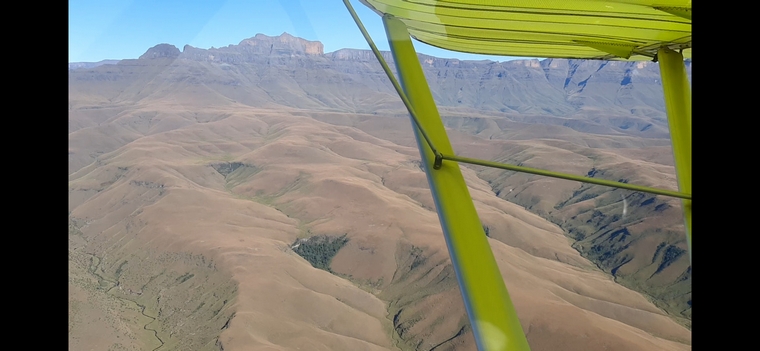 At 8000ft and looking up at the Giant

We crossed the highest ground and started descending into the Himeville. The valley ahead was lush green with lakes and dams everywhere, a beautiful picture. Arriving overhead Himeville airfield, we had to orbit as a Pilatus PC12 and Cessna Caravan were about to take off. They were transporting guests back to JHB after a wedding over the weekend.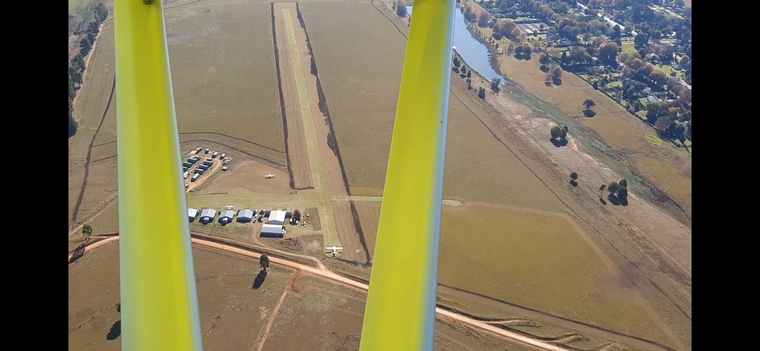 Himeville Airfield with Caravan lined up for take-off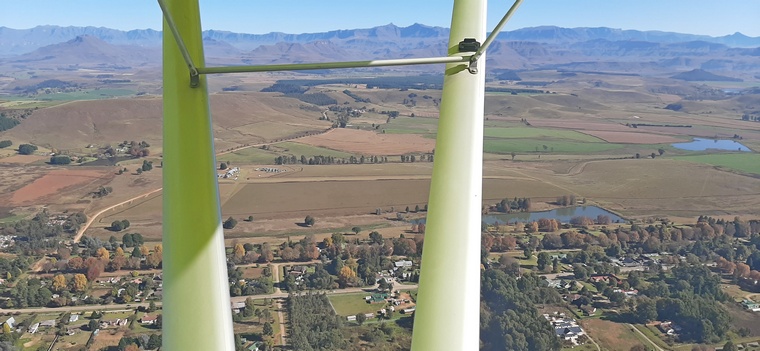 Himeville Town

After landing, we were welcomed by Bryan Berklejohn and a few other Himeville Airfield club members. They offered us coffee and made us bacon and egg rolls, delicious.


After Landing at Himeville Airfield

We then met with Scott Williams, who owns Meadow Lane Country Cottages about 4 miles west of the Himeville Airfield. Scott jumped in with me and we hopped over to his airstrip. Quite a tricky runway with a steep downhill from the midway point, total length 400m. I would definitely recommend that your brakes are working properly before attempting to land at Scott's.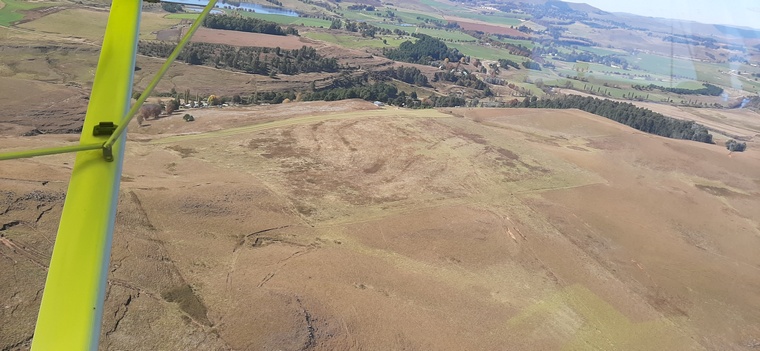 Scott's Mountain top strip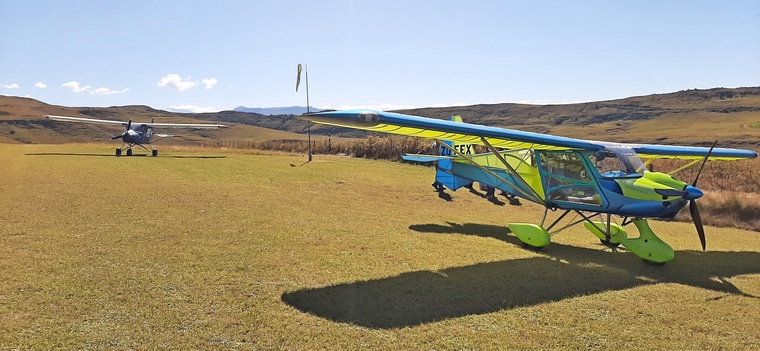 Landed at Scott's strip




Accommodation at Meadow Lane Cottages



Lake at Meadow Lane Cottages

We checked in and I then hitched a ride back to Himeville with Darrell in ZU-DPC. Bryan now owns ZU-DRL, a Zenair Zodiac/Carl Babst Raven previously owned by me. I took advantage of the opportunity to go and explore the Underberg area with Bryan. We were also joined by Darrell in the Cheetah and Ian in his Gyrocopter.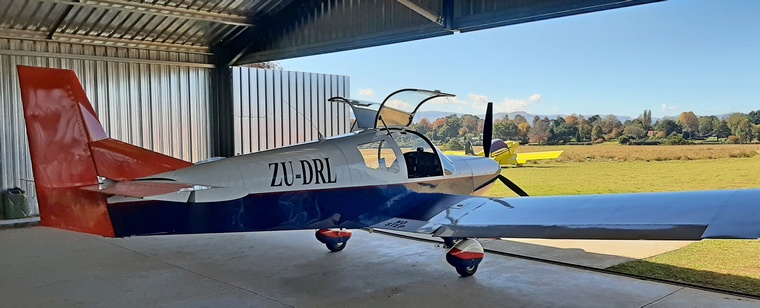 ZU-DRL at its new home




ZU-DRL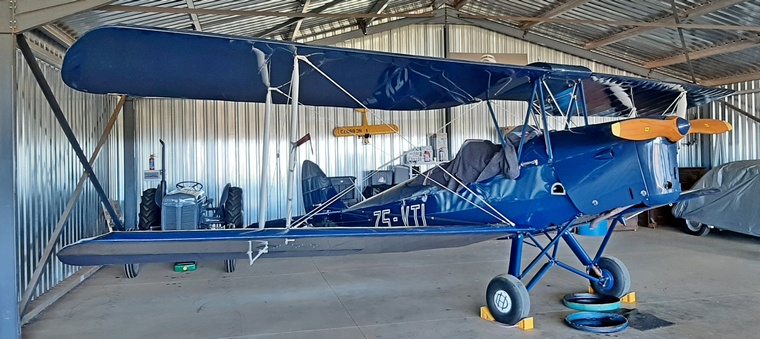 Simon Berklejohn's Tigermoth

We headed towards Utopia Airfield, home of the Drakensberg Soaring Club, a beautiful airfield. We landed from the North West with final approach over a lake, once again a sight that neither words nor photos can do justice.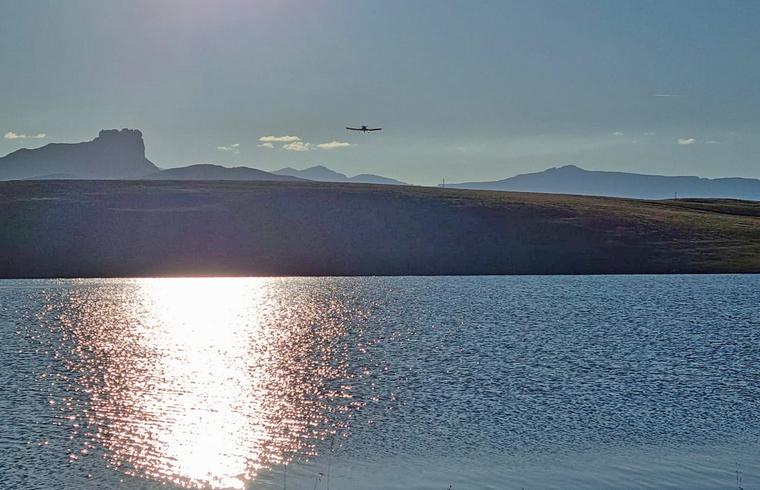 DRL on approach at Utopia Airfield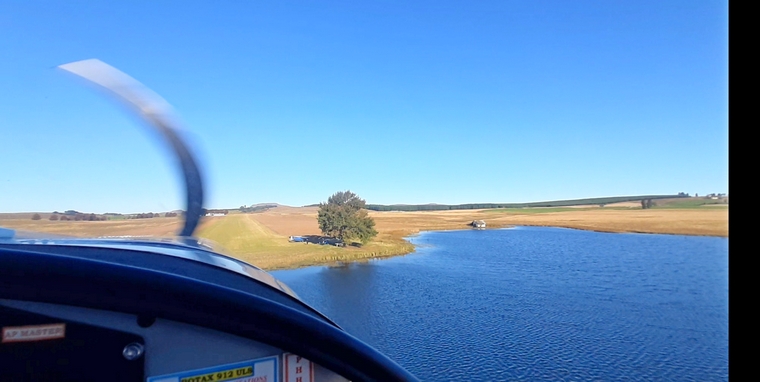 Short Finals at Utopia Airfield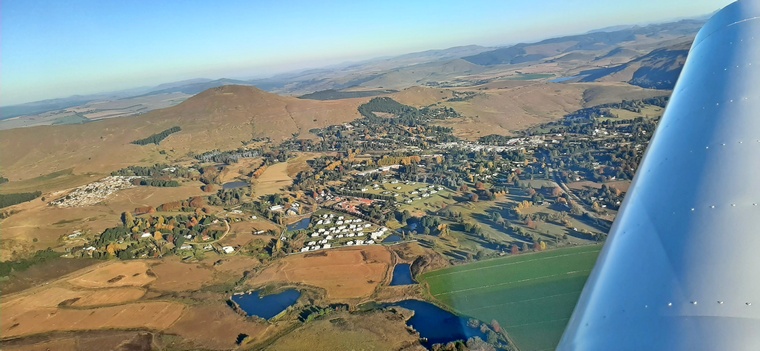 Underberg

After more flying in the Drakensberg Garden Valley, we headed back to Himeville and then onto Scott's strip. Mountain horses along the fence of the airfield welcomed us back and we enjoyed an amazing sunset over the Drakensberg.


Scott's downhill runway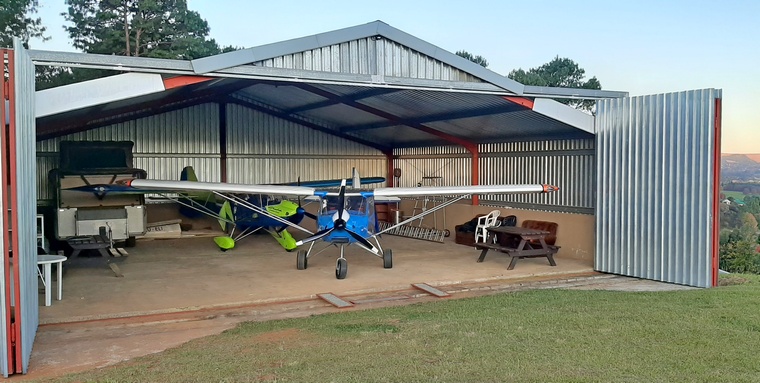 Scott's Hanger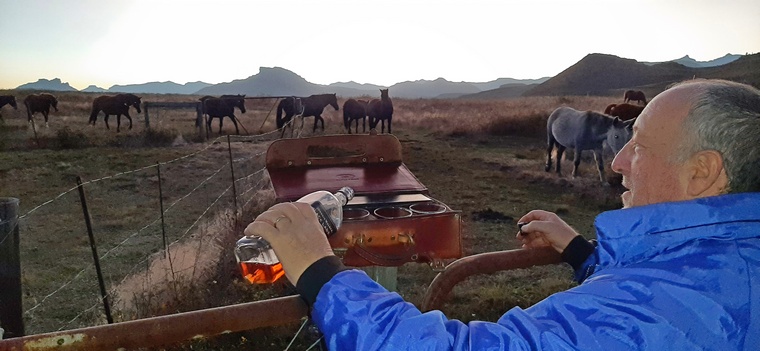 Sundowners with mountain horses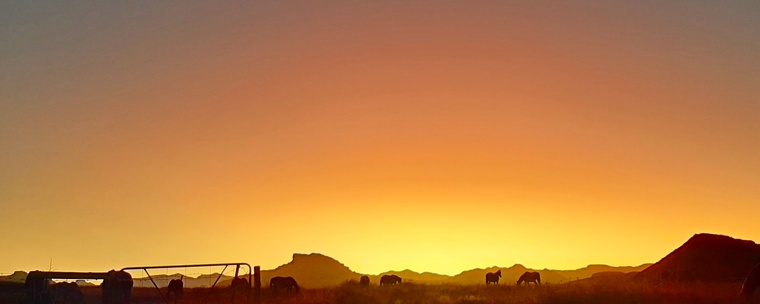 Drakensberg Sunset

Scott and his wife welcomed us into their home for a braai after which we retreated to our cottage. Thanks to Scott and Bryan for hosting us. Whether by air or road, I would definitely recommend visiting Meadow Lane Country Cottages, it's a gem.
Leg4: Himeville to El Mirador to Bingelela (Bergville). We were blessed with another beautiful morning for the flight back across the foothills of Giants Castle to El Mirador.


Ready to depart from Scott's Strip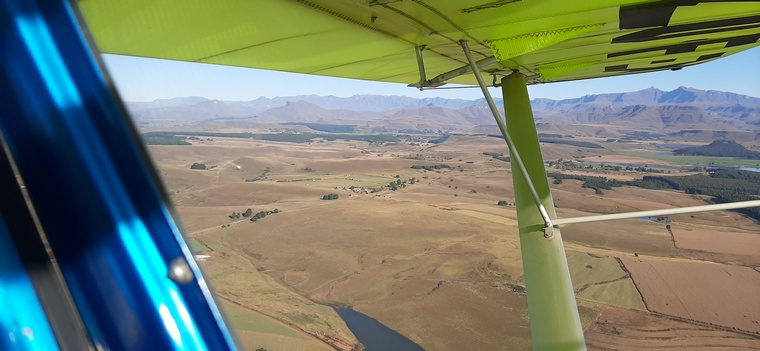 Himeville Valley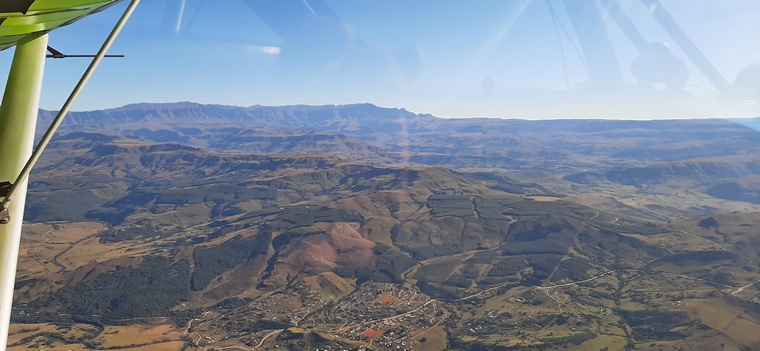 High ground ahead

Flying along the ridge, I spotted snow on some of the highest peaks; this was from 2 weeks prior and still not melted.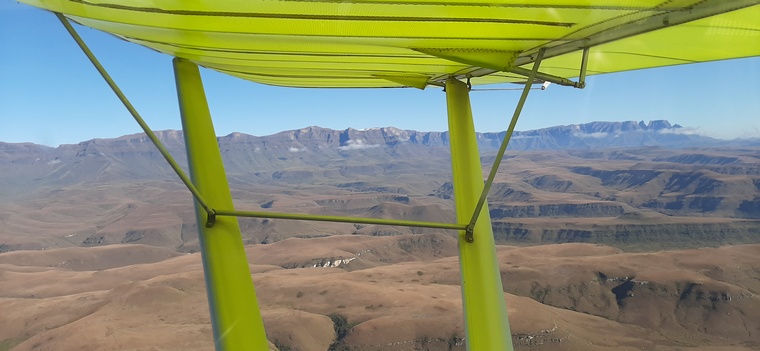 Snow on the high peaks


On route, we heard Brad Isaacson in a Sling2 routing from Umkomaas to Himeville and then following us to El Mirador. We descended into El Mirador Airfield, which is located about 10 miles east of the Champagne Castle Peak and which has an elevation of 11079 ft.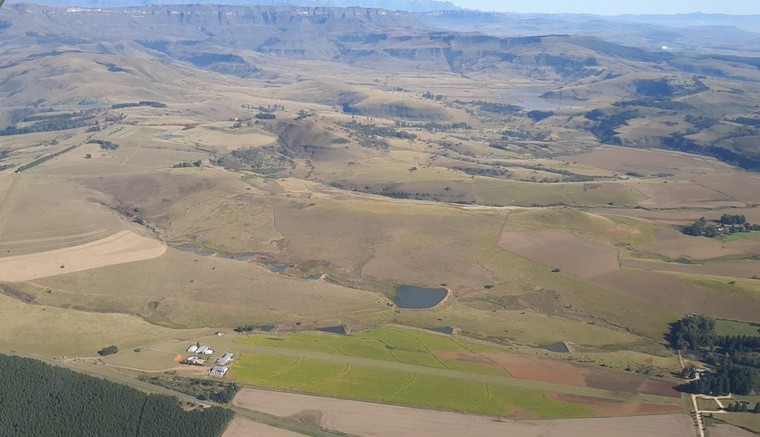 El Mirador Airfield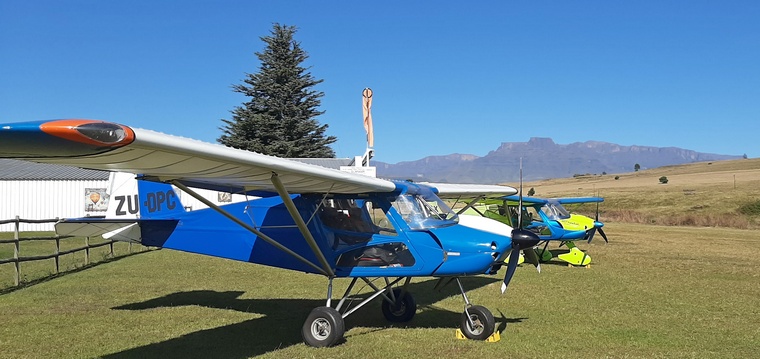 Landed at El Mirador with Champagne Castle in the background.

El Mirador has a number of small businesses on the airfield premises including the Chocolate Bar, Drakensberg Brewery and The Cheese Shop, where we ordered coffee and croissants for breakfast.


Chocolate Bar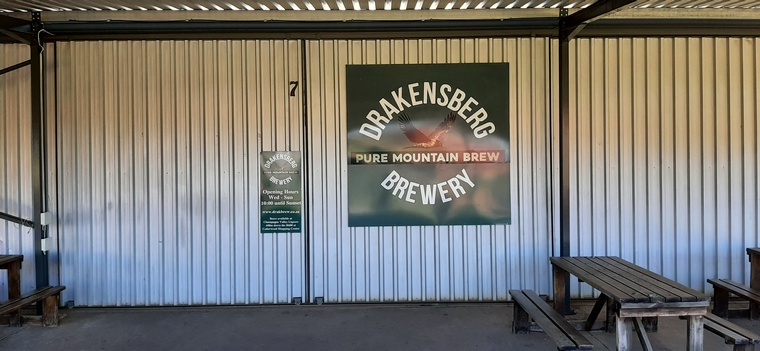 Drakensberg Brewery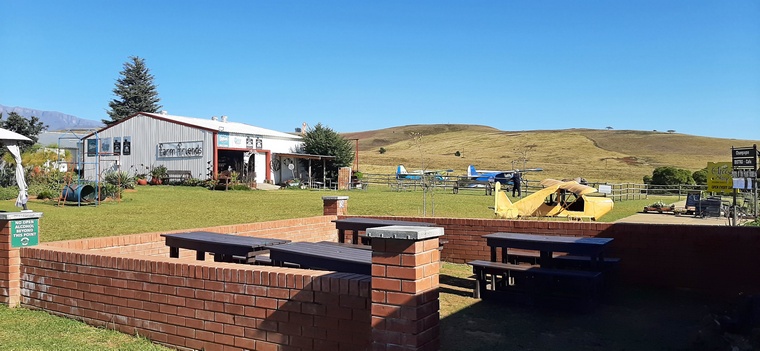 El Mirador Shops

Brad arrived in his beautiful red Sling and we had a good chat about visiting him at Umkomaas Airfield as part of a future trip.


Brad's red Sling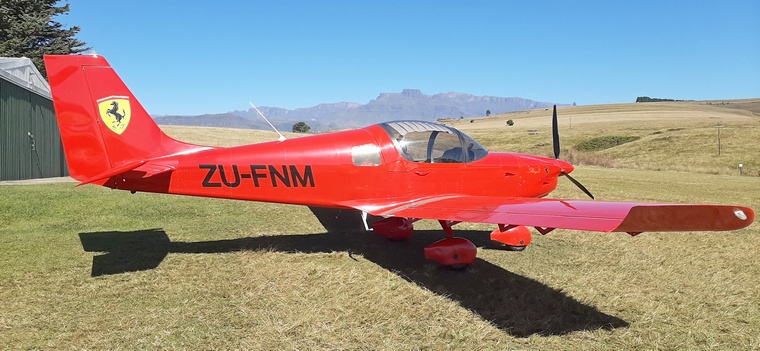 Brad's Ferrari Sling

We departed El Mirador at around 10:30, heading for Bergville. We passed to the east of Glen Gray Airfield, recently used as a base by Tom Cruise and his film crew for the filming of Mission Impossible 8. We landed at Bingelela Airfield just north west of Bergville and to our surprise, the owner Joss Joubert, left us his Gator to load the luggage and drive to the cottages. One could also taxi to the cottages, but we decided to leave the aircraft at the runway in case we wanted to do more flying late afternoon.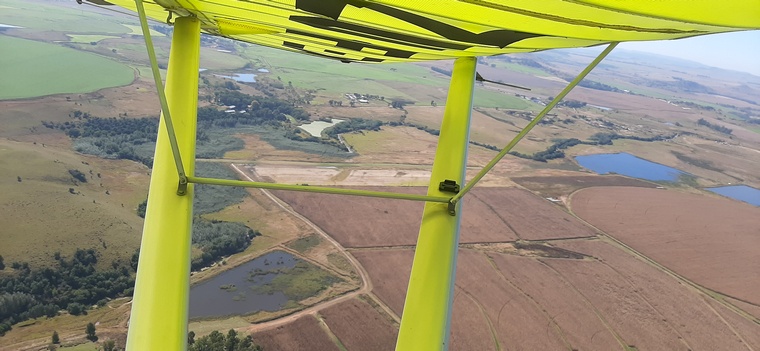 Bingelela Airfield



Landed at Bingelela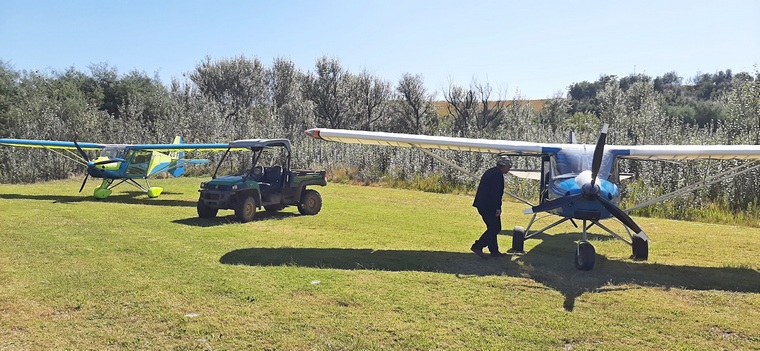 Parking at Bingelela

Bingelela has a beautiful restaurant, bar and swimming pool that must be very popular with locals.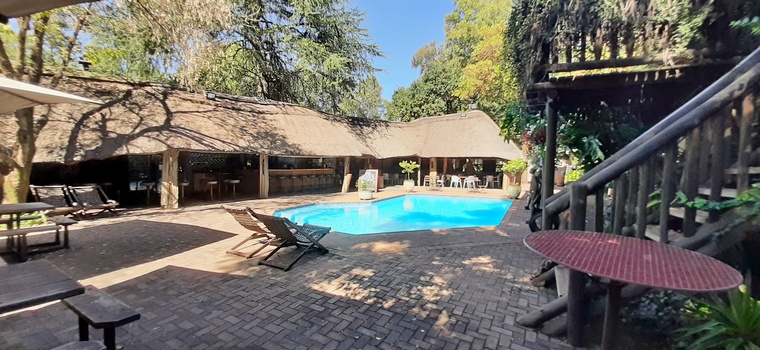 Bingelela Restaurant

Joss arrived overhead in his Sling2 around 16:30 after a quick flight to Durban for business. He kindly supplied us with fuel, after which we towed back his Sling to the hanger making use of an interesting dolley.


Joss's Sling ready to be towed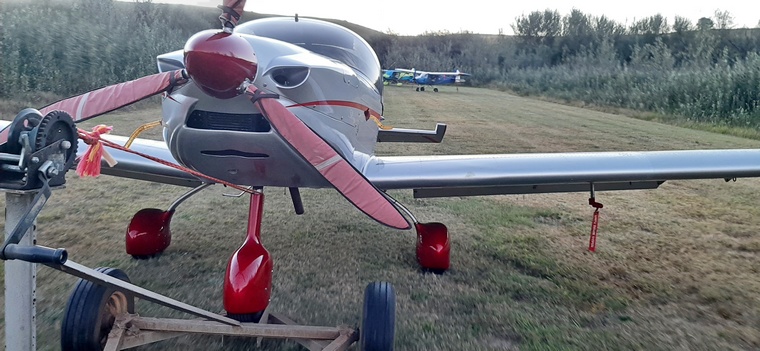 Towing Joss's Sling

With sunset, we lit a fire and had a peaceful evening overlooking the lake outside our cottage. Thanks to Joss for accommodating us, Bingelela should definitely be on the list of places to visit when in the Bergville area.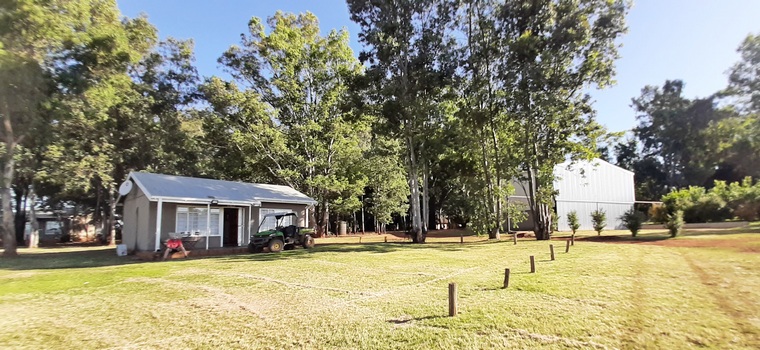 Bingelela Cottage and Joss's Hanger




Drakensberg View from Joss's Farm

Final Leg: Bingelela to Harrismith via Sterkfontein Dam to Klipriver Airfield. After take-off from Joss's strip, we headed to Woodstock Dam and then started climbing, hoping to get a view of the Tugela Falls (983m high) and Mont-Aux-Sources, one of the highest peaks in South Africa at 10768ft. Unfortunately, we had a bit of wind with turbulence coming off the high ground. We did not want to get too close and decided to avoid the valley.


Sunrise at Bingelela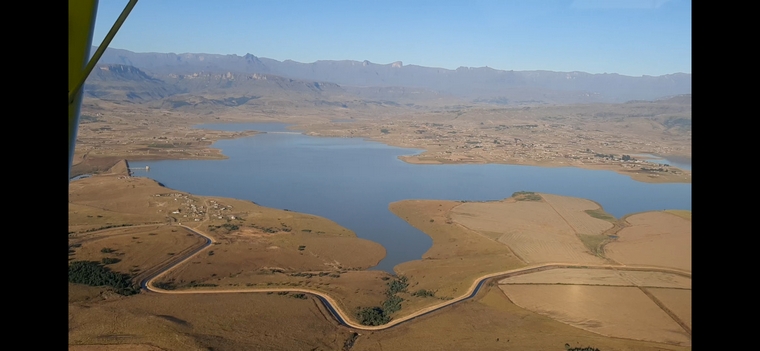 Woodstock Dam

We set course for Sterkfontein Dam, which we could see from miles away. Crossing the escarpment at Oliviershoek Pass with Sterkfontein Dam dead ahead was an amazing experience. Low level along the shoreline all the way to the dam wall made for some breath-taking views.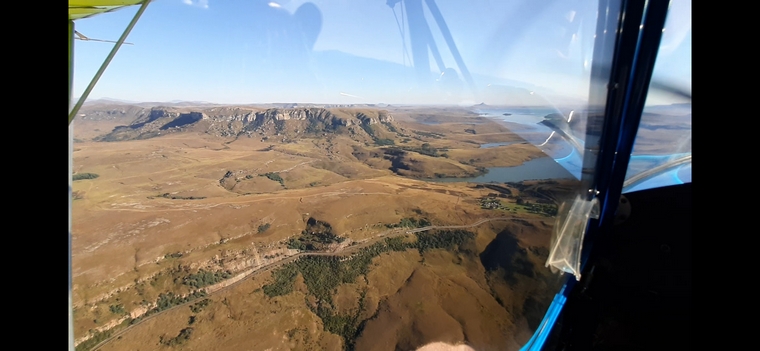 Oliviershoek Pass with Sterkfontein Dam ahead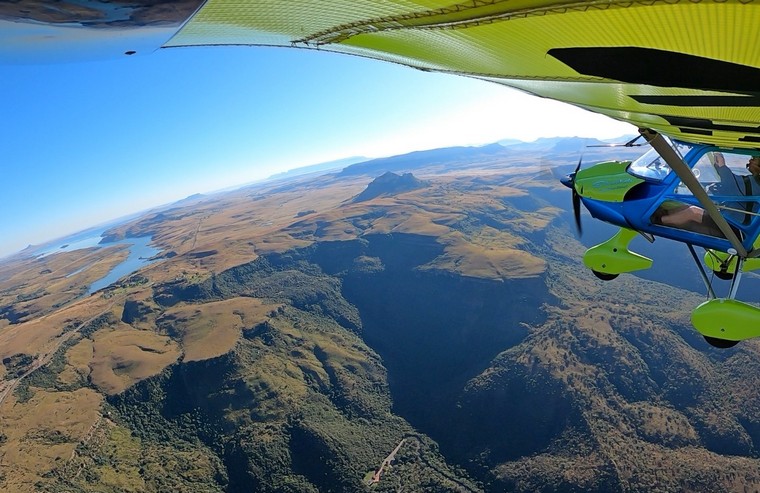 Crossing the escarpment with Sterkfontein Dam ahead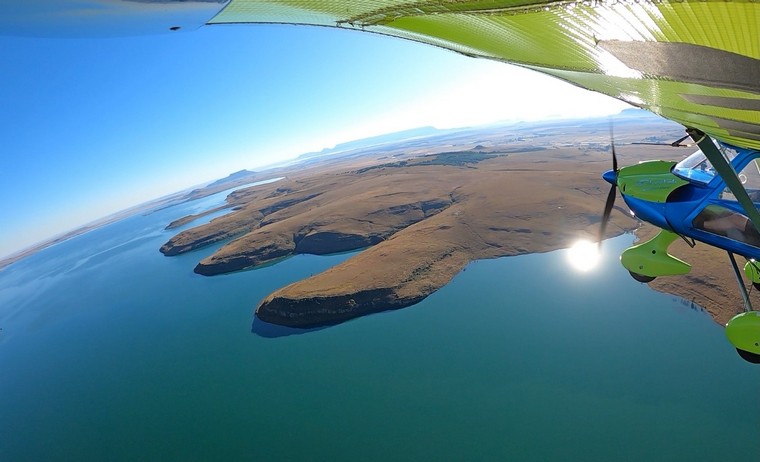 Along the shoreline of Sterkfontein Dam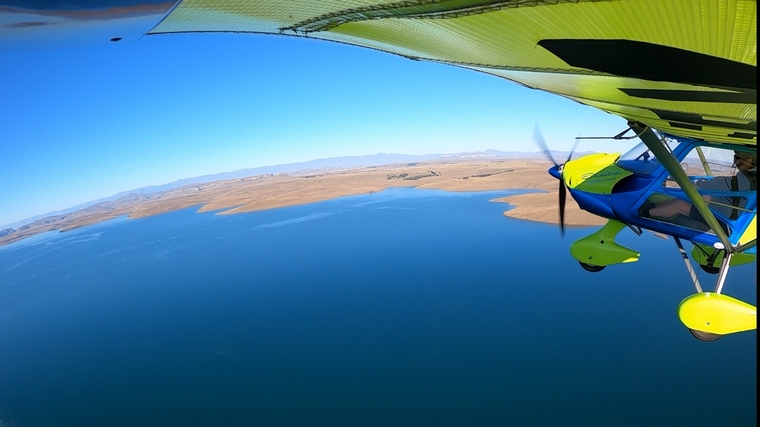 Abeam Sterkfontein Dam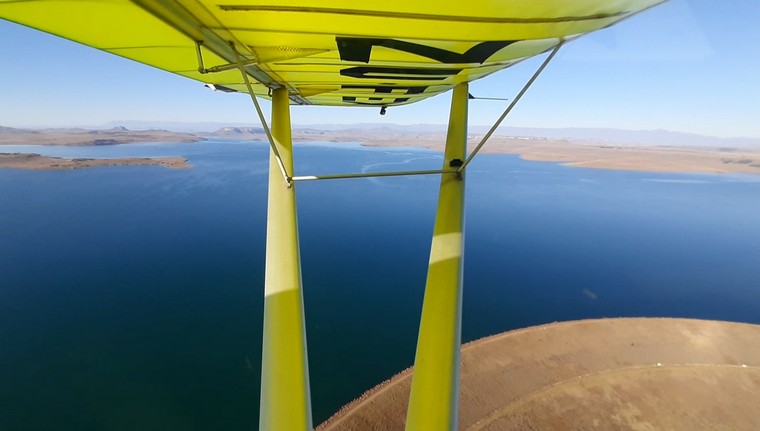 Sterkfontein Dam Wall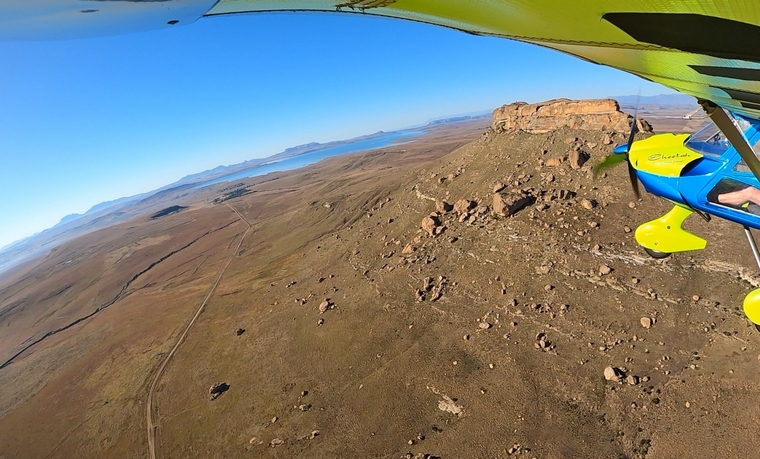 Koppie north of Sterkfontein Dam

We stopped at Aero Farm, just north of Harrismith. We were welcomed by Gerhard Meyer, who offered us coffee and later by Robert and Mandy Polock who assisted with fuel. Peter Polock also arrived and wanted us to stay a bit longer, but we still had 140 miles to cover so decided to get going. Thanks to Garreth Polock for arranging the fuel.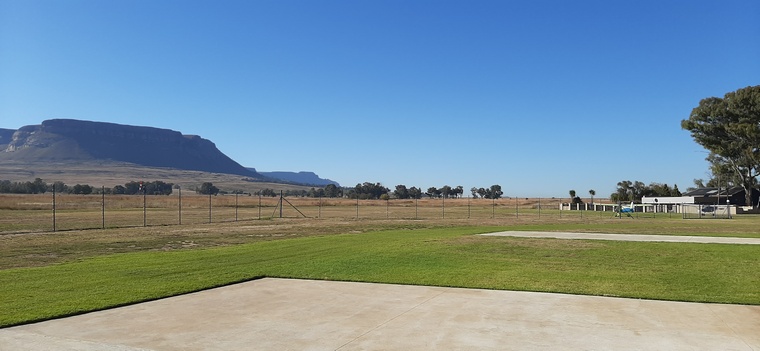 Aero farm Airfield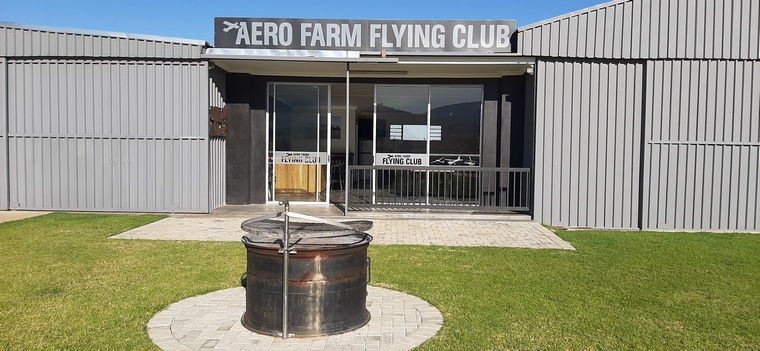 Aero Farm Flying Club

The flight over the Free State Flats was uneventful and we routed directly over Frankfort Airfield. We were hoping to visit Johnny Smith, but he was out crop spraying in Schweizer-Reneke.


Frankfort Airfield

We continued on and started to see the "big smoke" ahead. Along the Vaal Dam there were patches of mist and low clouds which we could get around.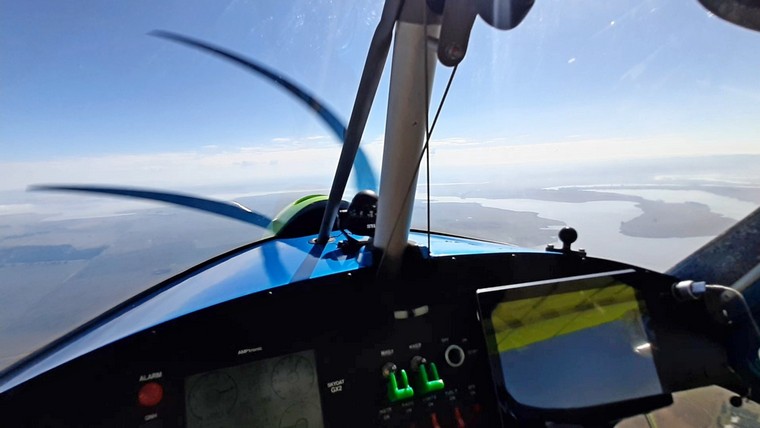 Approaching the Vaal Dam with smog ahead


As we entered the JHB Special Rules area, it started to get partly cloudy and more turbulent, the worst we had experienced during the entire trip and that was just 20miles from our final stop. With the Suikerbosrand ahead, we pushed on and arrived overhead Klipriver Airfield in 1h40min from take-off at Harrismith.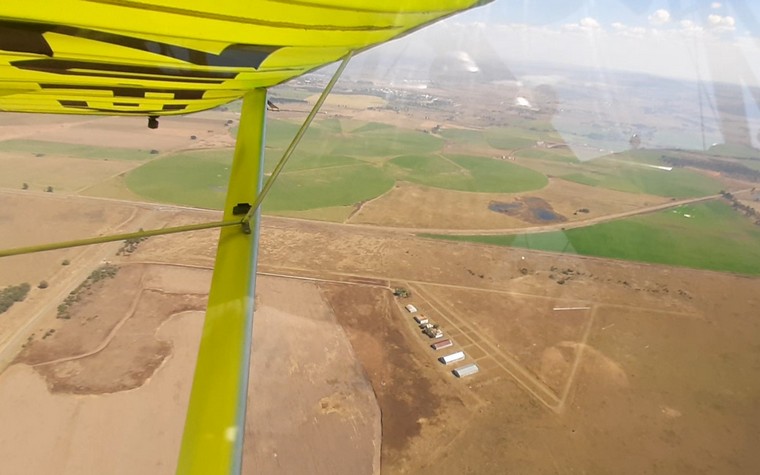 Back home at Klipriver Airfield


After unpacking the aircraft, we finished off the trip with a beer and lunch at the Circus Restaurant.
We met some amazing people, we made new friends, we saw the most wonderful sights and experienced some of the best flying I have ever done. The weather was great and we had time to take it all in; we could not have asked for better…Let me know if you would like to join us on the next trip.
Michael Skinner
Rainbow Air School
Klipriver Airfield
083 662 1564



Google Banner Ad