2021.03.14

On 14 February, I posted on our Kroon Airfield Group and asked if anybody would be interested in joining me for a flight on Thursday 18 February to view the Augrabies Falls which, because of the good rain we had, was a spectacular sight.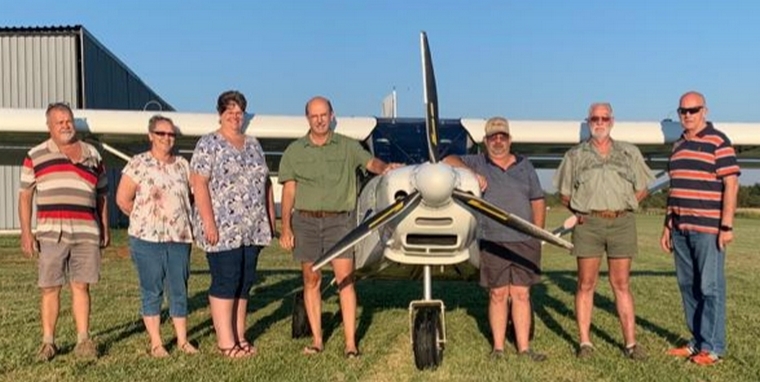 From left to right myself Dawie du Toit pilot ZU-EYA, my wife Estelle, Anneline Miller, a friend, Theo Greyling pilot and owner of ZU-FIK, Phillip Gouws pilot of ZU-FIK, Danie Van Heerden pilot of ZU-EOR and Johan Welman

Even though it was such short notice, I got replies from Danie van Heerden, owner of ZU-EOR, a Savanah VG, and from Theo Greyling and Philip Gouws, ZU- FIK, a Savanah XL. Both aircraft are based at Kroon.
Since EYA and FIK have long range tanks but EOR not, we had to plan for fuel on the way and Johan Welman, from Kroon came on board to assist with the navigation planning, tracking of the flight and to keep us updated with weather information during the flight. My wife, Estelle, and a friend, Anneline went along as ground crew.
We thoroughly checked and prepared our aircraft and on Thursday 18 February at 04.15, met at the field to prepare for departure at 05.10. We soon realised that Phillip was late and just as we were getting worried, he arrived in a cloud of dust and we were ready to go.
Just before first light Danie in EOR took to the sky followed by me and Theo. The first leg of our 522-mile adventure has started.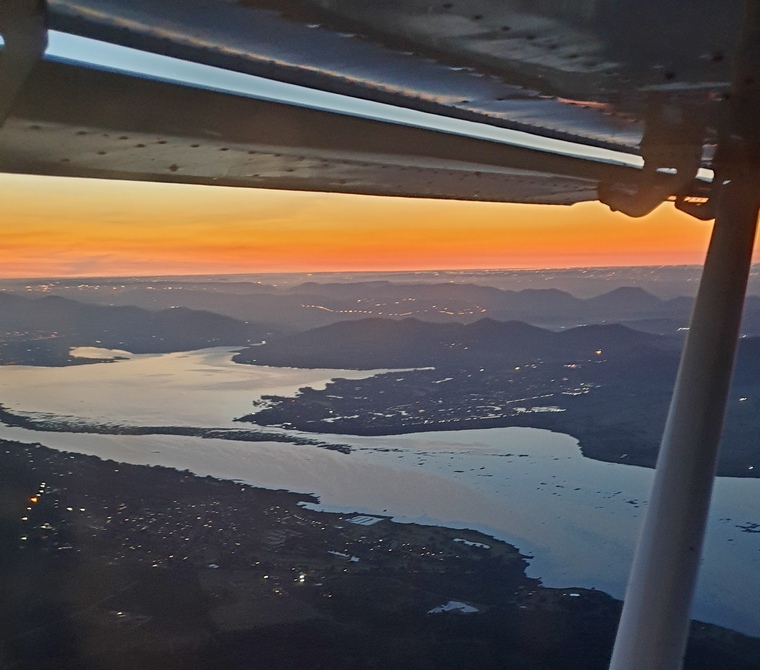 Our first refuelling stop was at Vryburg. The conditions were perfect at 6,500 feet as we flew past Ventersdorp and overhead Coligny and Sannieshof where we landed to stretch our legs and to top up on fuel that we had on board.
Next stop was at Kuruman that quickly appeared on the horizon. Down below there was water everywhere and the land was green and lush as far as we could see.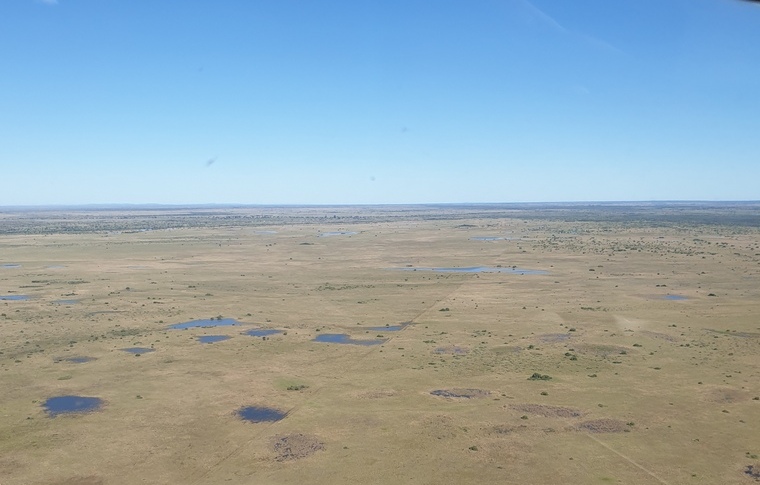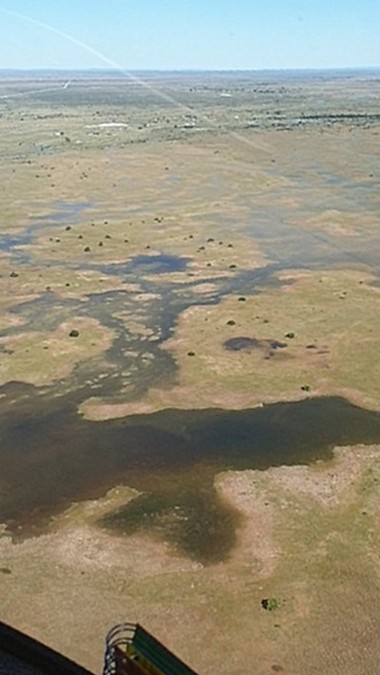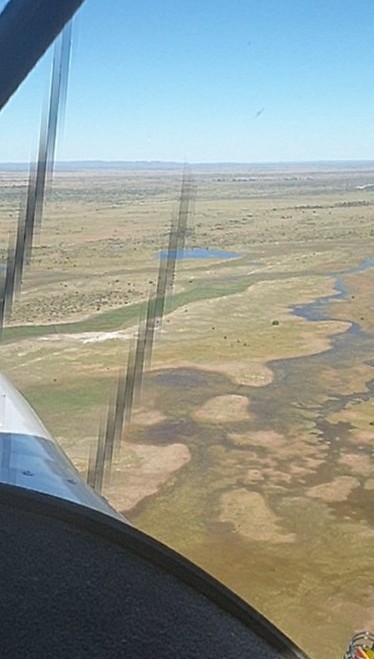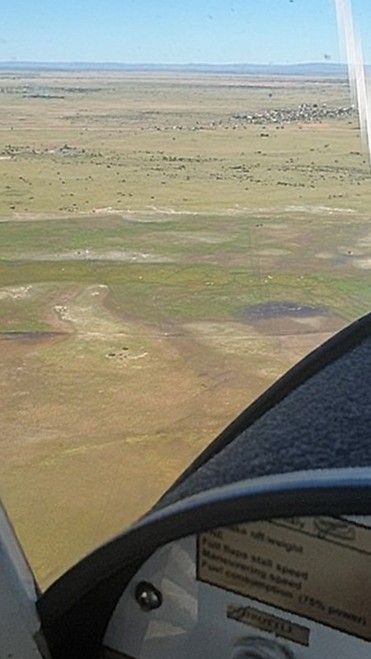 Landing at Kuruman, we all topped up and were soon airborne again. We were just passing Sishen when Theo suggested that we fly to Witsand and we all agreed. Poor Johan who was following us on live track was concerned since all of a sudden, we were all off track. Witsand was spectacular when seen from our vantage point. The pure white dunes looked fantastic and it was something that we will always remember.
Leaving Witsand, we set course for the Orange River and flying low level over the mass of water making its way to the falls and then to the ocean, which was a truly wonderful experience. South, we went to Upington and then to our destination, the falls. The flight over the thundering might of the river as it went over the falls was breath taking.
It was about 13.30 when we landed at Dundi Lodge's smooth dirt runway, where we made that sure our aircraft were well tied down and secured as it gets rather windy at night
The ice-cold beer tasted especially good as we sat on the veranda of the lodge. Soon it was time to depart for our accommodation at the Belvedere Guest house in Kakamas where we were to spend the night. Getting there we learned from the kind and hospitable people that the interior decoration of 'The Rose Cafe' the guest house restaurant was the work of Porchi, the renowned artist.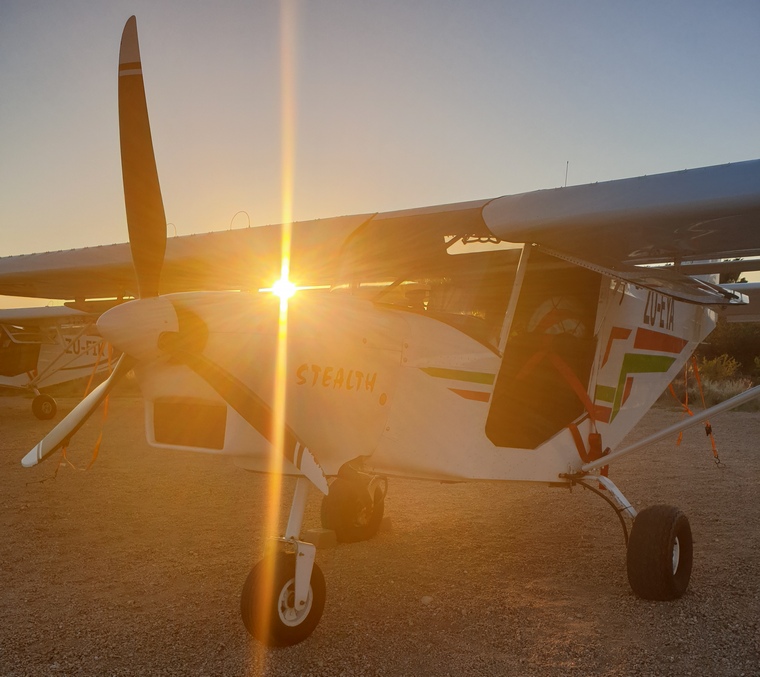 It was at the Lodge that we found out that Kakamas has its own airstrip and there and then we decided to explore it. Taking off on Friday the 19th from the lodge, we landed at the field that was in surprisingly good condition.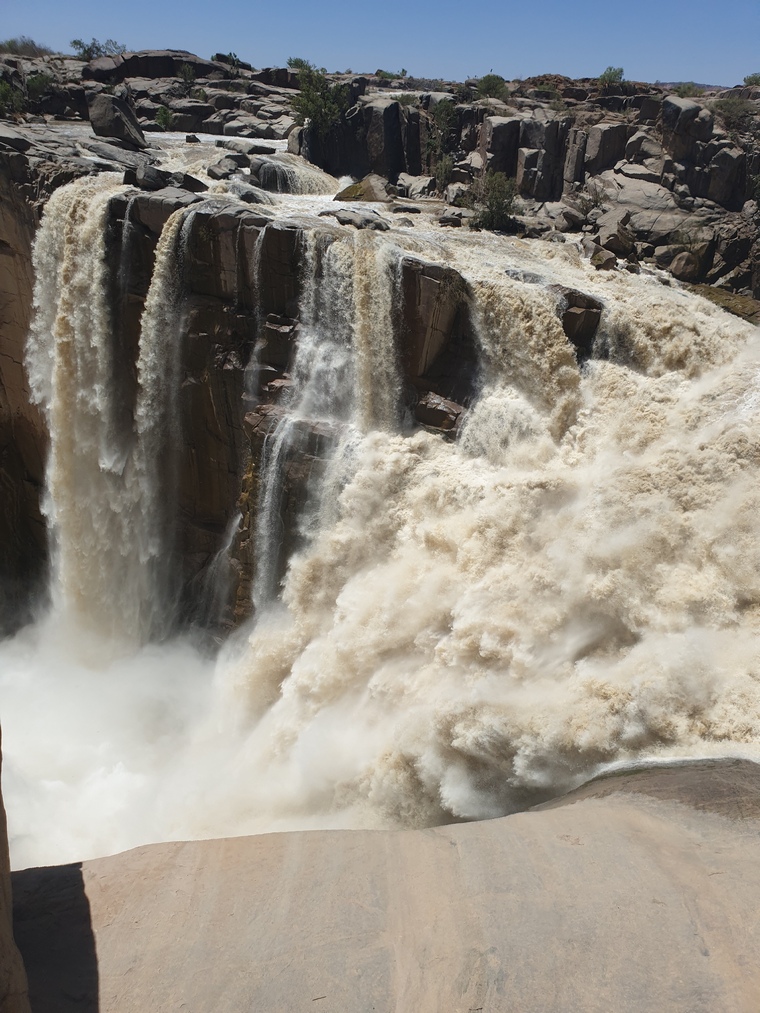 We then set out for the falls and as we approached, we thought the haze in the air must be from a veld fire but soon realised that it actually was the moisture from the falls that was still a good 15 miles away. The haze got thicker the closer we got and then we were over the falls and the mass of water thundering down into the abyss was amazing. Word cannot describe the sight that met our eyes.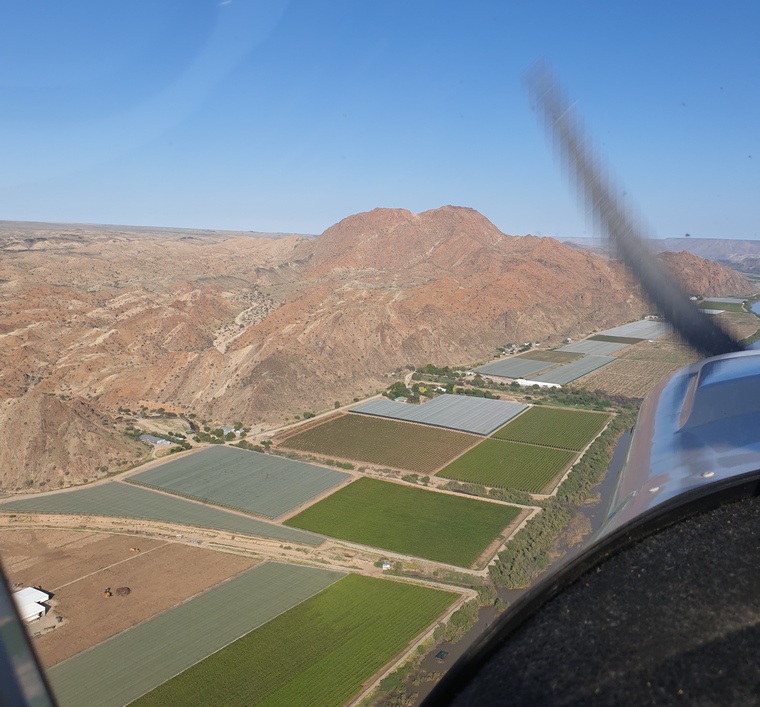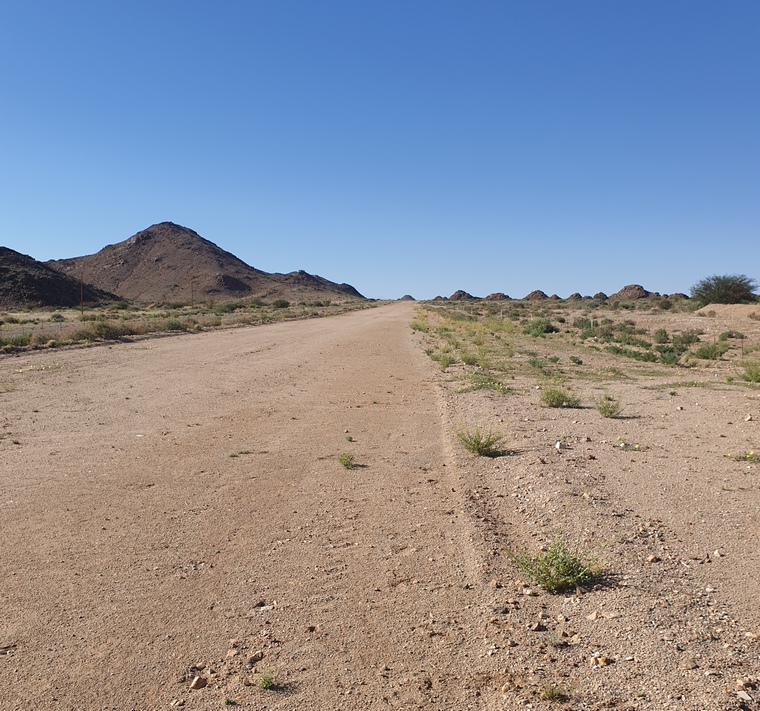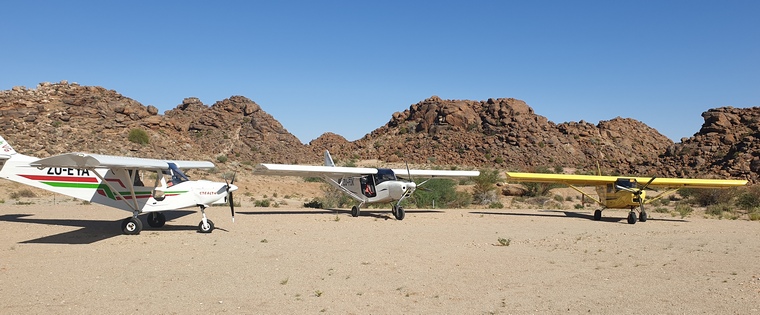 Leaving the falls behind, we followed the river flying low level over the shores and the agricultural settlements. The farmers use every available piece of land and the area is renowned for the cultivation of table grapes for export, as well as watermelon and dates and other crops.
Following the river, we flew to Raap and Skraap where we landed in the middle of nowhere to enjoy the scrumptious food parcel that the guesthouse had prepared for us.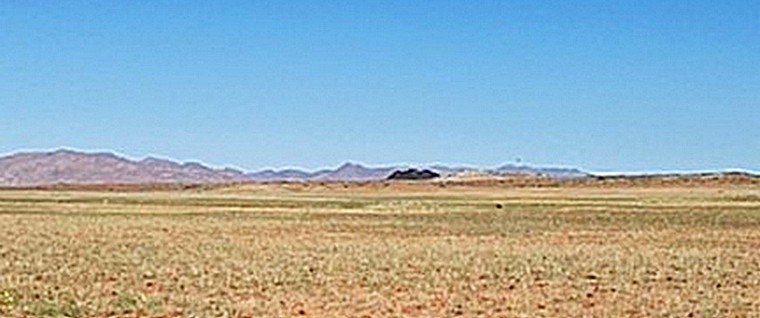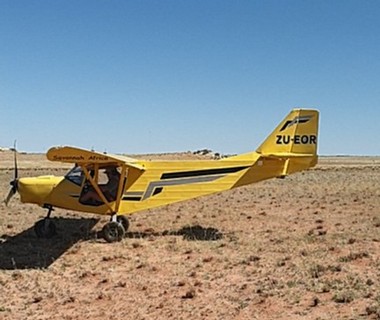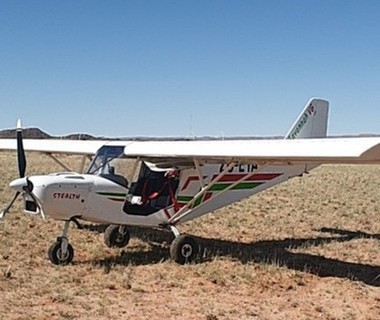 Refreshed, we flew west to Onseepkans and the border post between South Africa and Namibia where we turned south and flew overhead a dry and desolate desert where Danie and I spotted an open veld that, after a proper precautionary, we landed. Stretching our legs, we left and at 12.00, arrived back at Kakamas.
Saturday arrived and it was wheels up at sunrise as we set out for Askham about 130 miles north of Kakamas. Approaching Askham, we decided to fly further north for breakfast at the Kgalagadi Lodge. We had barely stopped when the lodge's bakkie approached and after being made welcome, we were transported to the lodge where we were spoiled by a mouth-watering breakfast of bacon and eggs, toast, fried mushroom, two helpings of boerewors and a delicious cappuccino.
Getting back to the aircraft, we discovered the first problem of the flight. Theo's aircraft had used 80 litres more fuel on that leg than what Danie and mine had consumed, leaving him with not enough to return to Kakamas. Fortunately, Phillip is an AP and had just sufficient tools with him to hopefully fix the problem once we have found it.
Whilst Theo got a lift to Twee Riviere to buy fuel, we looked for the problem and fortunately found it rather quickly. The guilty party was a leak in one of the carburettor bowls which was quickly fixed and when Teo got back, we refuelled and he did a couple of ground runs just to make sure that all was perfect before we departed.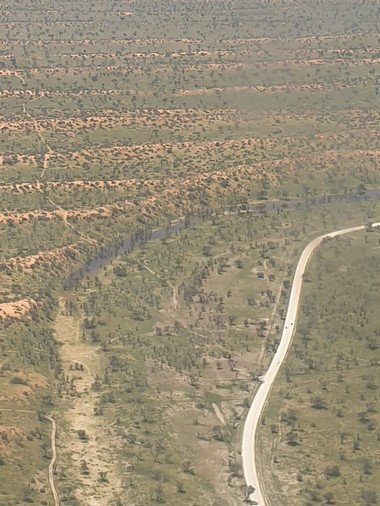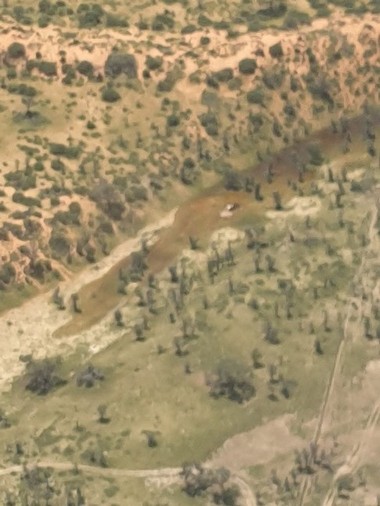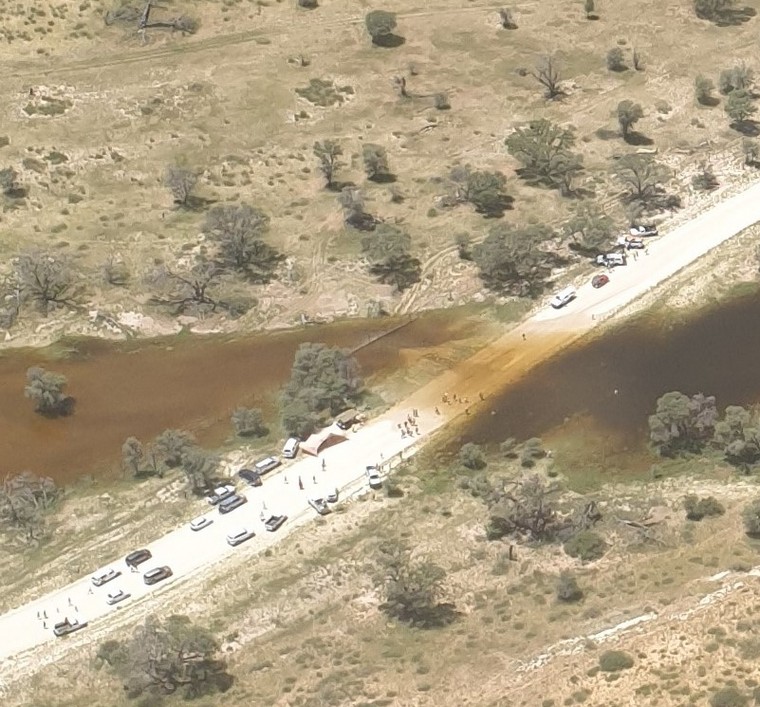 Our flight took us to Askham and the Kuruman River that for the first time in thirty years was in flood. Flying over the river and seeing all the people down below, camping, braaing and swimming and having fun was just wonderful.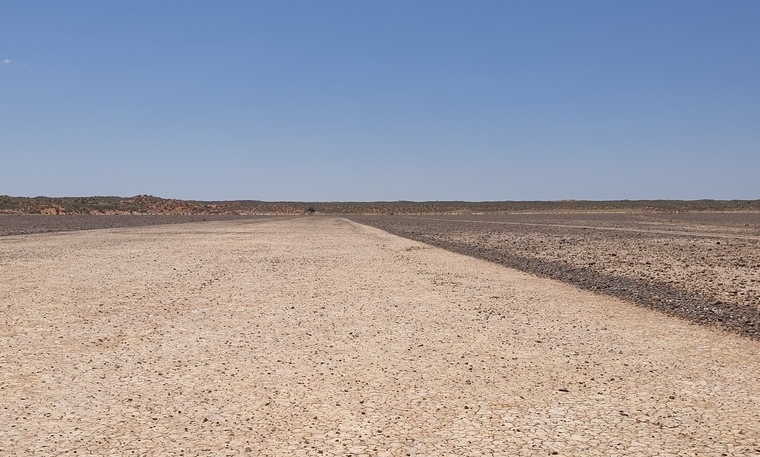 Setting course back to Kakamas, a potential landing area appeared on one of the many salt pans plans and we decided to do a precautionary landing. I landed first and told Danie that the surface seemed fine to me. However, Danie complained that his aircraft was pulling to the right and he thought it might have been because of a muddy patch but when he stopped, we found that he had a flat.
In the meantime, Theo was well on his way to Kakamas and there we were in the middle of nowhere with no cell phone reception. Fortunately, or so we thought, we had some special emergency equipment in the form of a small gas cylinder used in some BB guns that to our dismay did not work.
Fortunately, the runway was wide so I suggested to Danie to use full left rudder and left aileron and using full power take off. He tried and the willing Savanah with almost no airflow took to the sky. Back to Kakamas we went where he did a short landing so as to hopefully not damage the tyre which it did not and we were able to patch the small hole that caused the problem.
We were all in bed early after a long and rather eventful day.
Sunday we were up early, leaving Estelle and Anneline to sleep in and to follow us later by road as they had been doing up to then.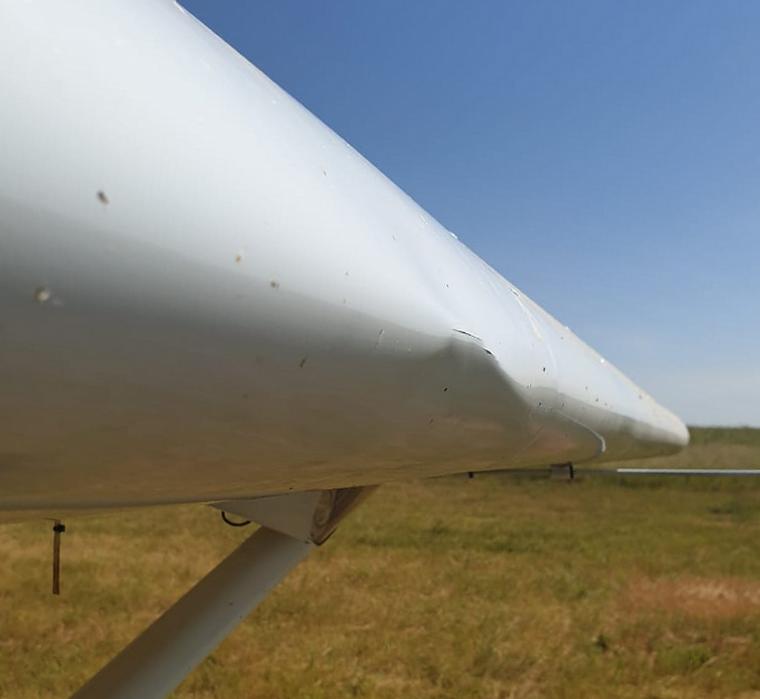 It was still dark when we pre-flighted to be ready for take-off at sunrise. Our plan was to get back to Kuruman to top up and then to fly to Delareyville. All went well until we got to Delareyville. Theo had landed safely and I was on shorth finals and over the threshold when a flock of guineafowl came out from under a bush and I could do nothing but continue. I hit one of the birds and after stopping saw that it had caused a rather substantial debt to the leading edge.
Danie filled up and we left for the last leg of our adventure, landing safely at Kroon about 12.20 after four wonderful unforgettable days. Our total flying time was about 22.5 hours, during which we flew approximately 1800 miles (2800km).
However, for our ground crew, the adventure was not over when outside Upington, the surface of one tyre delaminated leaving the two ladies stranded. Fortunately, three local gents came to their rescue and they arrived safely at 16.00.
Flying low level over the river that was in full flood for the first time in almost thirty-three years. Dotted with little island are used by farmers, the crops that were planted there were drowning, the plants already brown as we flew over them.
The hospitality of our fellow aviators in Kakamas, Augrabies and Upington was absolutely wonderful! Despite being caught in the flood and facing a grasshopper plague, they willingly offered their help whenever it was needed.
I would like to recommend to pilots to explore the Northern Cape:- it is absolutely breath taking.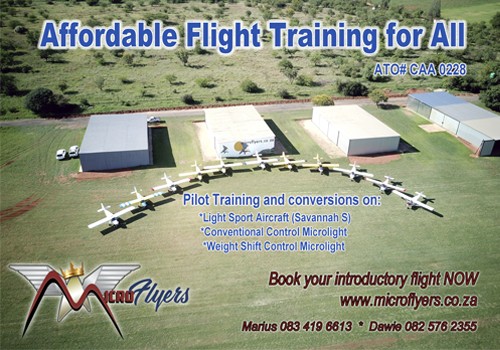 PLEASE GO TO
www.youtube.com/channel/UCCuRVZAGodT6sztTeXBGeMw
and subscribe to our YouTube channel