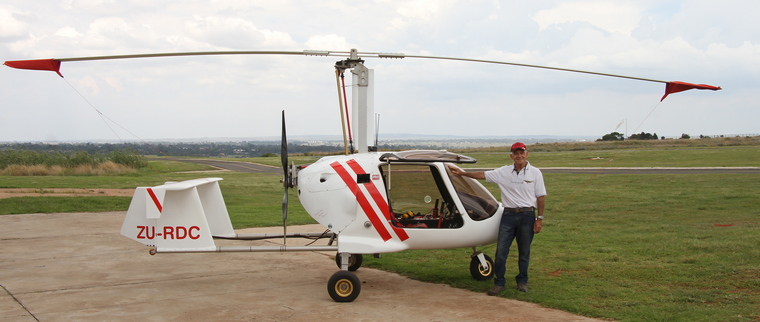 Krugersdorp's Jack Taylor Airfield based Gyro pilot Jean-Pierre Duponsel started his PPL at Lanseria and had 1 hour on the school's Piper Tomahawk when the school closed down. He moved to Lanseria Flight Centre where he was sent solo by Tony Tobar in a Piper 140. He then moved to NAC flying Beech Sundowners where his conversion to type was on the company's brand-new Sundowner, ZS-KJR with only 10 hours on the Hobbs. The test was not without incident as both the radio and instruments played up.
Jean-Pierre then progressed, got his night rating and converted onto more advanced aircraft like the Beech Bonanza and Mooney 201. He now has 18 types and 1500 hours in his log book.
As he could not afford a proper fixed wing, he was always renting planes from various flying schools. However, he found, in those days, that there was very poor snag reporting by those renting aircraft and he had his fair share of surprises and faults in flight.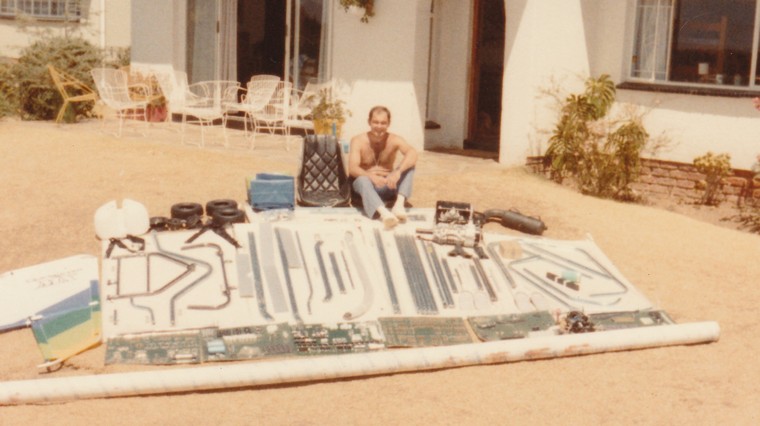 The MXII kit…….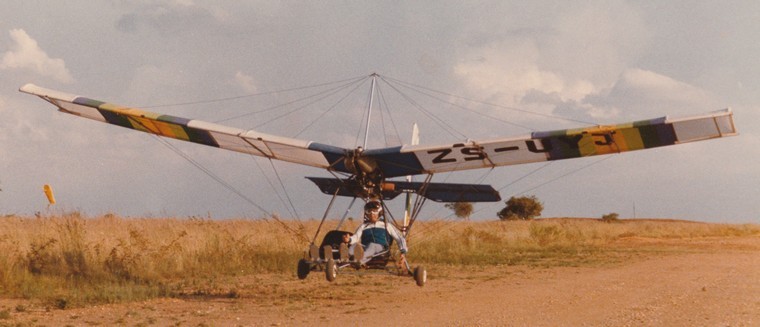 ……….and taking off for her first flight.

Then one day in 1983, Jean-Pierre was invited to test a single seat Quicksilver MX microlight at Lanseria and he jumped at the opportunity. He did two circuits from the 06 taxiway without a radio (yes, those were the times!) and promptly ordered a 2-seater kit from the 'States' that he flew for 8 years.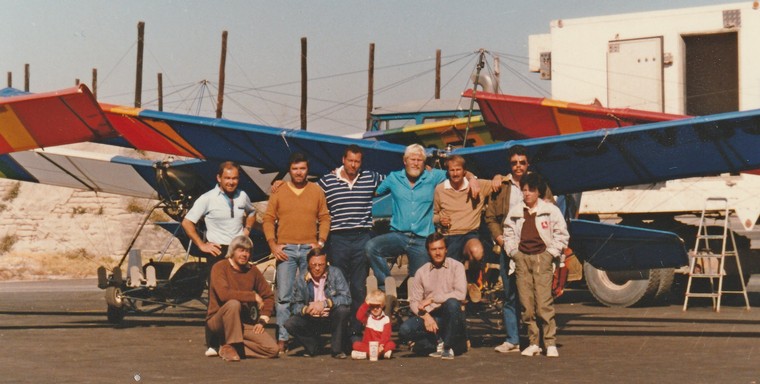 Jean-Pierre is in the back-row 1st left; Mike Blyth is in front row right near the child at the Mpacha Airbase.



Zambezi in the Caprivi Strip.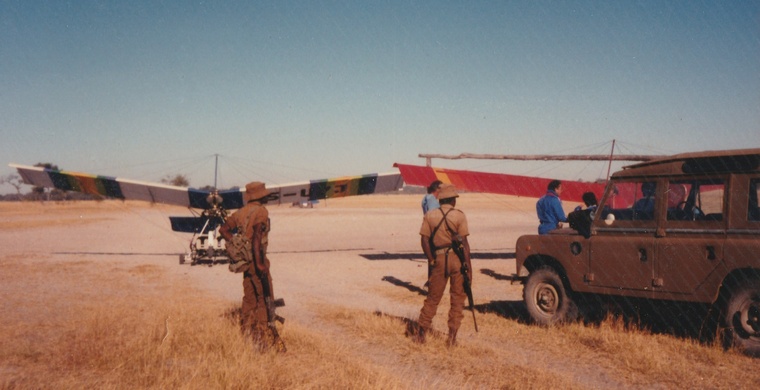 The SA Defence Force watching over their planes as it was still war time in South West Africa.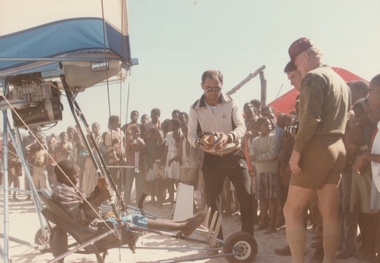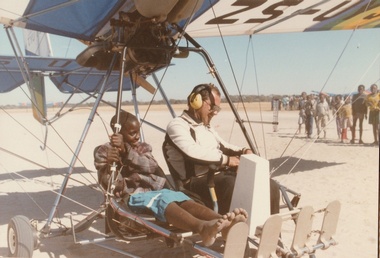 Giving a ride to best pupils in a village while being watched over by SA Defence Force.

One of his most memorable flights was in the Quicksilver when he, together with Mike Blyth and four other MXII owners, flew a week-long adventure along the Zambezi in the Caprivi Strip.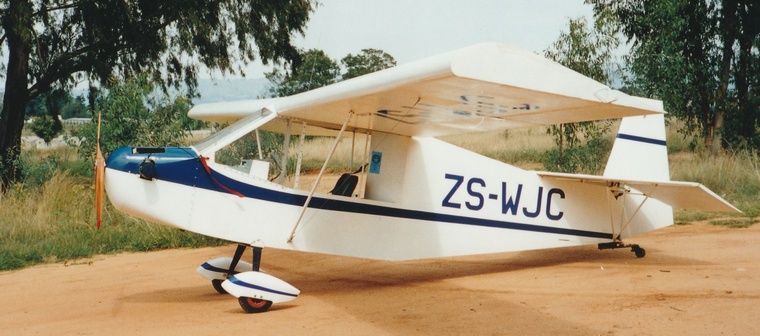 The Cloud Buggy, a once off design by a Mr Crutchley in Pietermaritzburg.

Over time, he owned various other microlights, including a Cosmos trike and a Cloud Buggy, which is a fixed wing tail dragger single seater with a 35HP Rotax, a one of a kind design by a Mr Crutchley in Pietermaritzburg. The Cloud Buggy, Jean-Pierre said, was probably the best fixed wing that he has ever flown.
However, he flew alone as his wife Eileen was, to say the least, not comfortable with turbulence.
"I always looked down on gyrocopters, listening too much to the fixed wing groups reporting them as power hungry, thirsty engines, aerodynamically inefficient etc..." Jean Pierre said. "They were in a sense correct, but my curiosity forced me to have a demo with Eric Torr in a Magni M16 that was for sale. That's when I realized that the sceptics forgot to mention the big advantages of gyros, such as the great comfort in turbulence and the very short landings, which give the pilot a far greater choice of places to do a forced landing."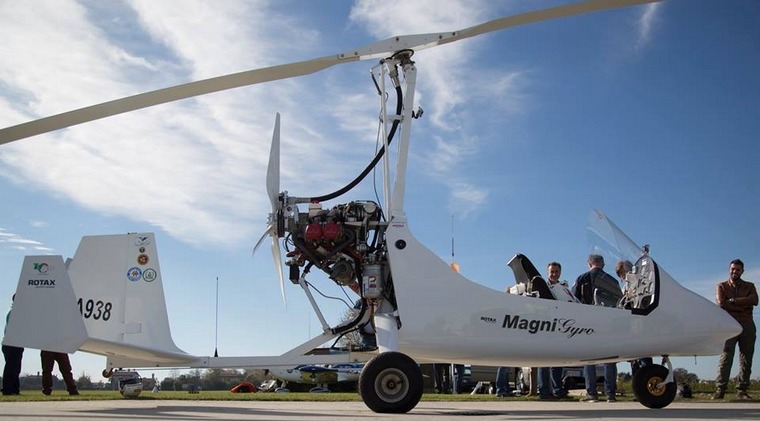 Magni M16

He purchased the Magni in question and his wife never shared her seat again. He kept the Magni for seven years, did two Kalahari Bundu bashes in her and later was sent to France to test a new design for a local agent of the Xenon, a side-by-side concept gyrocopter.
"The reason for sending me to was because I had some experience in side by side gyros as I had by then converted to the RAF2000 and because I had the ability to swear in French as the designer of the Xenon turned out to be a rather handful (or mouthful ?...) individual." Jean-Pierre recalled.
Nevertheless, the agents ordered a demo aircraft and he purchased its sister, a kit that was supposed to have been almost complete but in reality, was far from it. That started a long process of learning how to use a lathe and various other tools to make the missing parts.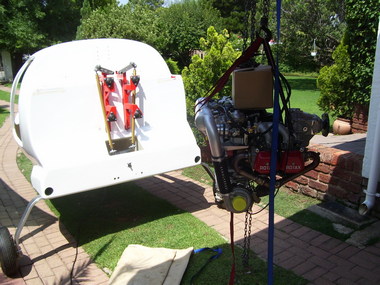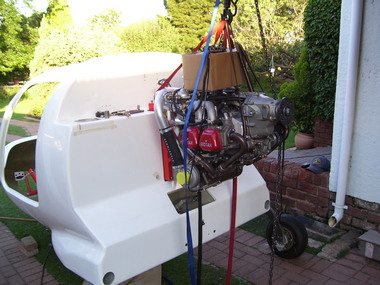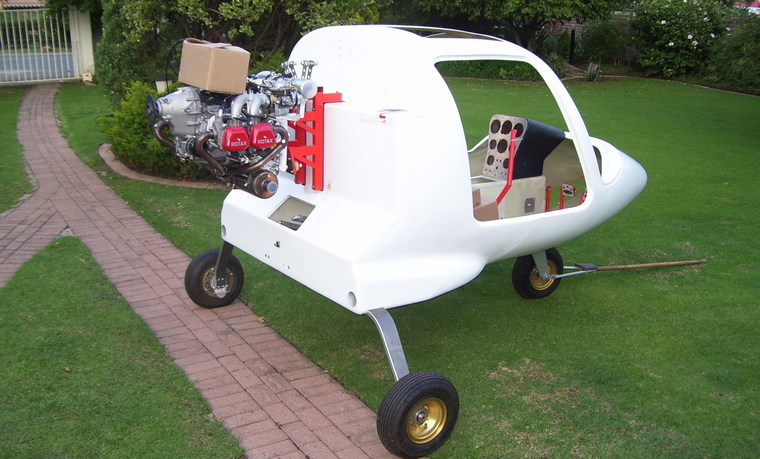 Jean-Pierre started the building process by first purchasing a new Rotax 914 from the local agents and put the fibreglass airframe onto its wheels, Then, he said, he pulled out a chair and sat down and wondered how to put it all together so that it would eventually one day fly.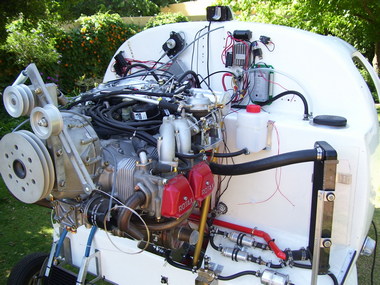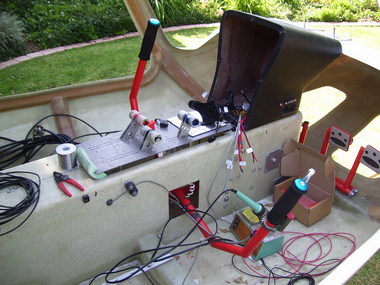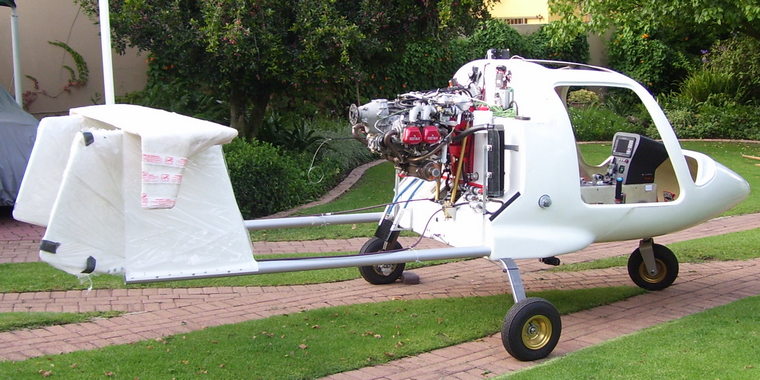 He ordered an EFIS from MGL, a radio and an extra GPS and did a complete new electrical drawing with many more fuses and many improvements to some of the mechanical designs. Learning form the performance of the demo aircraft that was already flying by then at Rhino Park, he realised that the rotors were too short for our highveld altitude and also apparently had an incorrect angle of attack making them spin too fast. He made some mods in that respect and a local company cut a new hub bar of his design with a different angle and length. Two and a half years later, on the 3rd of April 2010, he did the maiden flight of ZU-RDC from Krugersdorp airfield.
"I have done quite a few cross-country flights; all were in great comfort with Eileen serving "chicken or beef" in flight as the fuselage of the Xenon is wider than a C182. With the heater running, flying in winter is a pleasure and we can even enjoy a cup of hot coffee. We have flown to Battlefield Lodge near Dundee a couple of times, that and the Blyde River Canyon on the way to Hoedspruit were great highlights and the Xenon behaved impeccably. I can only really remember one scary moment. We were returning from Brits after the EAA's annual Sun 'n Fun when we got caught in some big updrafts in a thunderstorm that we managed to outrun and we landed at Mountain View Estate waiting for the storm to pass. To this day I am still thankful that we were in the Gyro and not in a fixed wing."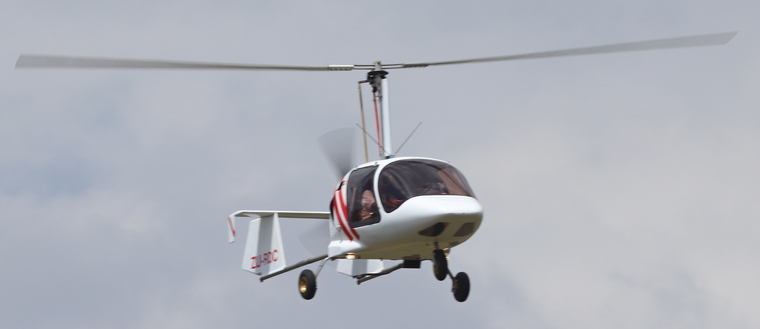 "Ten years later, this Xenon is still giving me a lot of pleasure and thrill to fly." Jean-Pierre concluded with a smile.
PLEASE GO TO
www.youtube.com/channel/UCCuRVZAGodT6sztTeXBGeMw
and subscribe to our YouTube channel