I have always carried a big umbrella in my jets as part of my survival gear. I never knew what it was for, but some say that I would need it on a rainy day and that others used it on sunny days to jump out of perfectly serviceable aircraft. This I had to try for myself. I am the MIG after all!!!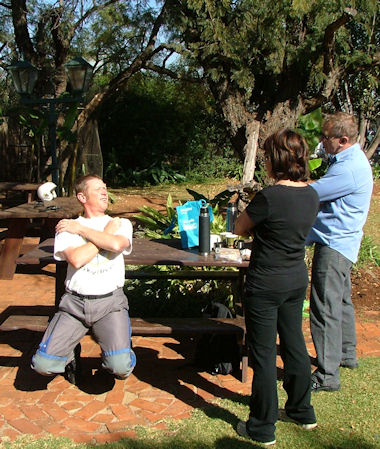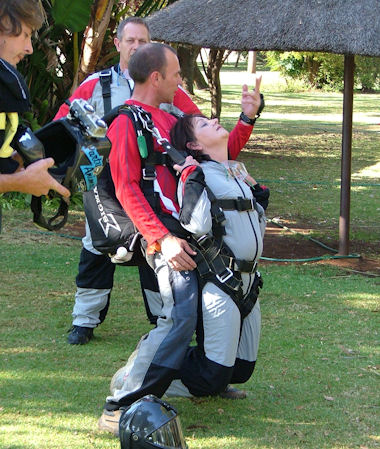 After some research, the Pretoria Skydiving Club seemed to be the best choice and I headed out to Wonderboom Airport for my first jump. To my amazement, they did not want me, The MIG, to jump without any training but they agreed to send me on a tandem jump. There is still some training, even if it is a tandem jump, but during these five minutes, they teach you all the ropes (or strings).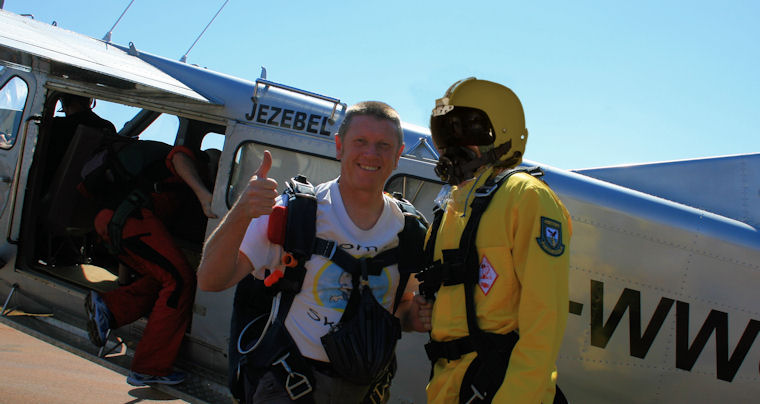 A short while later my name was called for the next load and I automatically released a litre of fluid and allowed it to evaporate through my flight suit. This was just to be sure that I am not over weight. Don't believe what anyone else says. My jumpmaster walked me to the lovely Atlas Angel from which we were going to jump and spoke a few words of encouragement (as if I needed it).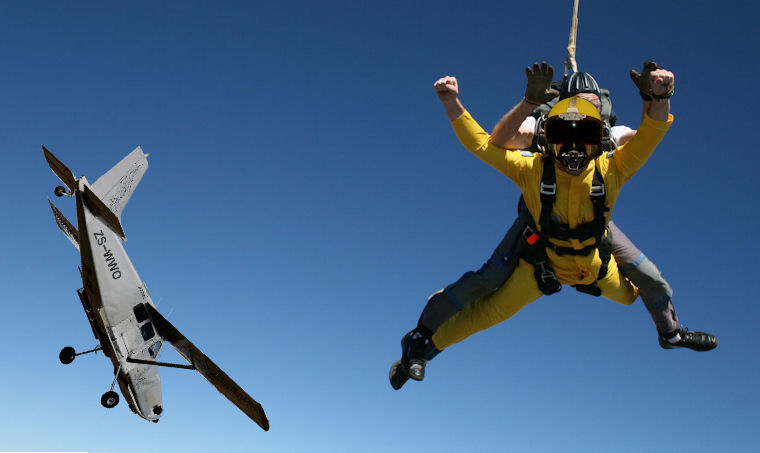 After take-off, we climbed to 15,000 feet (about 11,000 feet above ground) with a few checks during the flight. Although I became more and more nervous as my jump came closer, I also became excited and anxious to start this adventure. The jump started with a cameraman hanging on the outside of the aircraft and released when my instructor and I pushed forward to exit.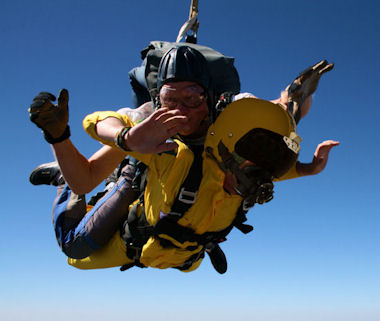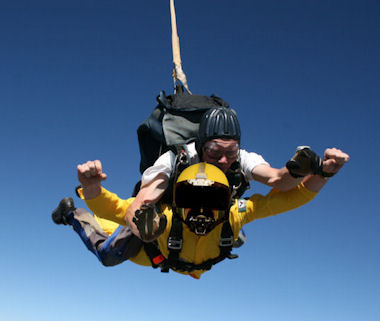 Flying through the air at Mach 1 (ų10) is an incredible feeling. You hear the wind rushing past you and the drag chute fluttering behind you. You can see other aircraft lower than you, birds flying and the high-rise buildings of the city on the other side of the mountain.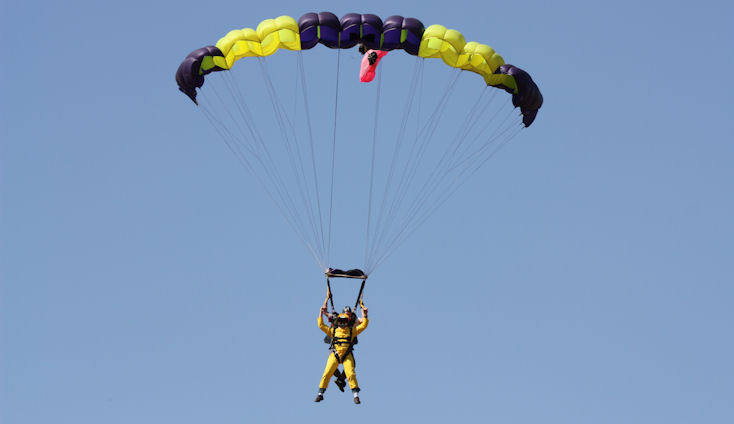 The free-fall lasted about 35 seconds, but once the instructor released the parachute the experience changed from a high-speed adrenalin pumping experience to a tranquil & unrushed float through the skies. Of course, you can change this ride into a spiraling dive but that will reduce your time in the air as a trade-off to some more excitement.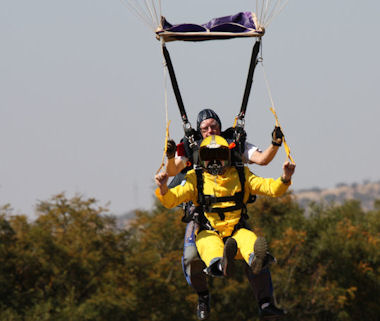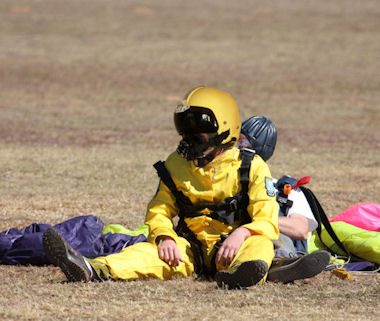 During the landing I had to lift my feet up in to the air to allow the instructor to guide us in for a soft(ish) landing without tripping over my legs or nosing over. We landed in a sitting position, giving me another brown stain on my flight suit. This was caused by the dust and dirt on the ground and again, don't believe what the others say.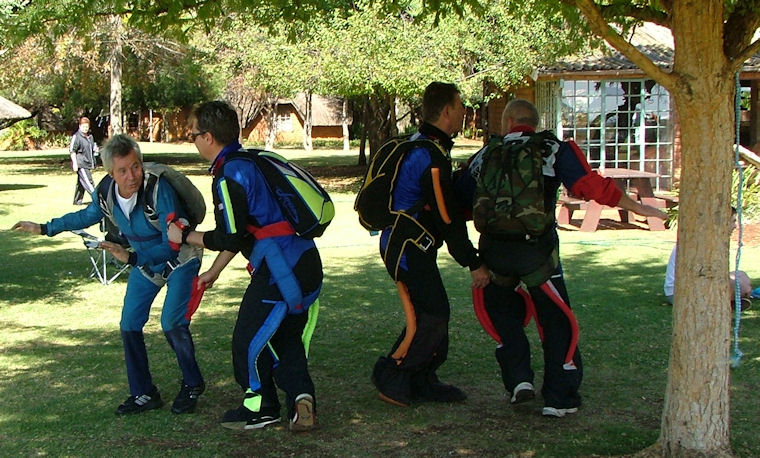 There are many friendly people at the Pretoria Skydiving Club both as social and serious jumpers. As the sound of aircraft above is music to my ears, it was the same for some present on the day as they started dancing a well-rehearsed routine every now and then.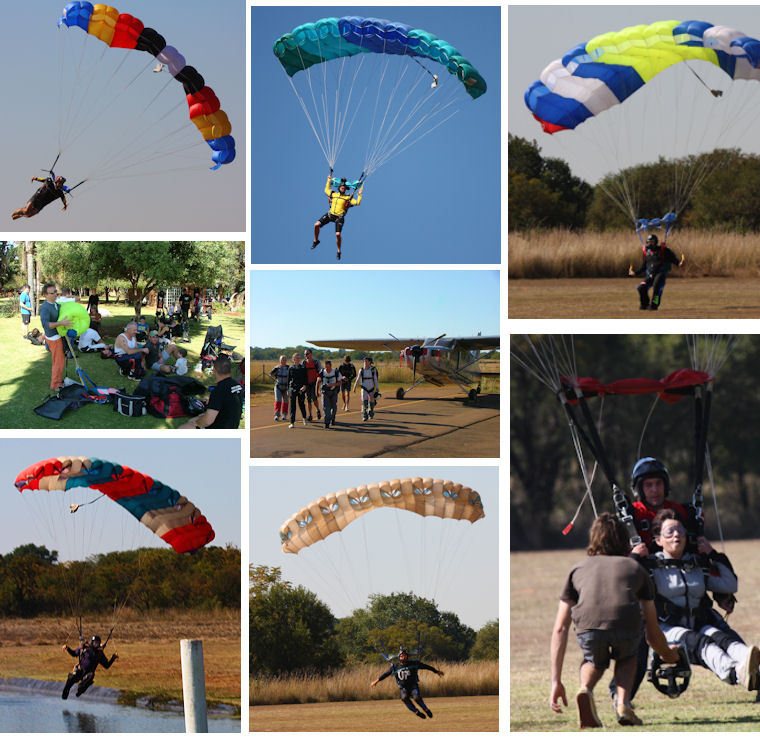 The tandem jump is a great experience and easy to do, but for the more adventurous, you can opt to become a solo skydiver. Unlike the old days where you had to do a minimum of ten static line jumps and then slowly progress to freefalling, the Pretoria Skydiving Club offer an Accelerated Free Fall (AFF) program where you will do an estimated six hours of training followed by ten jumps assisted by the club's world class instructors.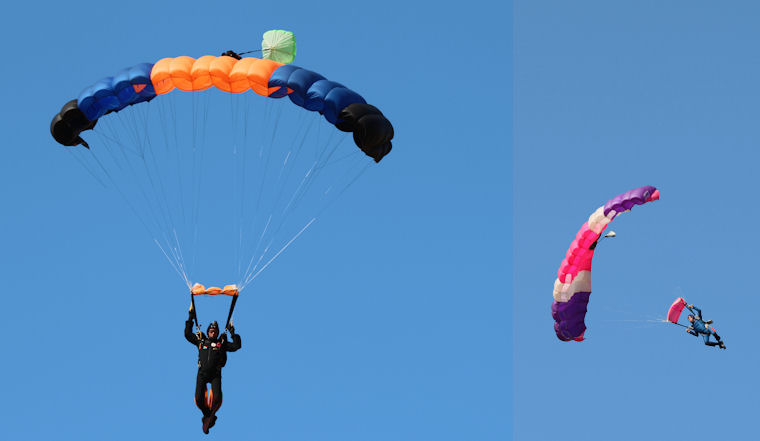 I certainly recommend this experience to everyone, young and old, and it should be a definite item on your bucket list. For more information, contact
The Pretoria Skydiving Club
www.skydivepretoria.com
greatfun@mweb.co.za

PLEASE GO TO
www.youtube.com/channel/UCCuRVZAGodT6sztTeXBGeMw
and subscribe to our YouTube channel